A fire can be devastating to a home as both the smoke and the flames can cause damage to furnishings and structural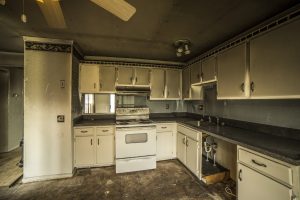 items.  If your home has been damaged in a fire, contact RestorationMaster for our smoke and fire restoration services in Rockville, MD.
The professional staff of RestorationMaster is trained with an understanding of chemical combinations that are effective for cleaning up damage caused by smoke and fire.  We can remove fire and smoke damage from a variety of different surfaces and materials including brass, aluminum, chrome, marble, tile, porcelain, and fabrics such as carpets and upholstery.  It is important to contact RestorationMaster immediately after fire damage has occurred because the complex chemical reactions created by burnt material can cause an item to go from cleanable to unsalvageable in just a few days.
RestorationMaster offers our clients in Rockville, MD a 5-Step Fire and Smoke Restoration Process:
Emergency Pre-Cleaning: Our pre-cleaning is done within 24 hours of the disaster to prevent permanent damage to items such as metals, chromes, kitchens, and bathrooms.
Content Pack Out: We offer content storage in our climate controlled facility in which we will inventory and store belongings while the property is being restored.
Content Cleaning: Our content cleaning service covers all belongings including clothing and electronics to restore, deodorize, and dry them.
Wall and Ceiling Cleaning: We use state-of-the-art equipment to remove soot, smoke, and odor from damaged walls and ceilings.
Deodorization:Our staff removes odor and the source of the odor caused by fire and smoke damage from your home.
If your home in Rockville, MD has been damaged in a fire, contact RestorationMaster immediately for our fire restoration services.  We are on call 24 hours a day, 7 days a week, 365 days a year to respond to any fire damage emergencies that may strike Rockville, MD.
Contact us at (301) 381-2304 for a free quote today!