Elements Restoration
Do I need to stay elsewhere during the restoration process?
Depending on your needs and standards, this is ultimately your decision. Some factors you may want to consider can include: personal concerns, odors, noises, and safety. If vacating the property is necessary for any period of time, consider the following: forward all mail to your temporary address, put a hold on any deliveries, and notify any services provided directly to your home (cable, utilities, phone, etc.).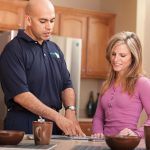 Do I need to hire any contractors?
This depends largely on the type of services required. In some cases, such as painting the walls, electrical, plumbing, roofing, framing, carpeting, door installation, windows, cabinets, and post construction cleanup will need to be done by separate contractors.
Do I need to remove my belongings from my property?
Depending on the area, source, and extent of the fire, your content might need to be removed. In this case, they will be transported to a secure facility for cleaning and storage until the restoration on your property is complete. Elements Restoration will also work with you and your insurance agent to decide which items will stay and need to be removed for restoration.
Will I be able to access my content while it is in storage?
Yes, with proper notification, we can schedule an appointment for a restoration technician to meet with you and provide access to your items. But please keep in mind that there may be a service charge.
What will happen to my fragile items? China, antiques, and heirlooms, etc.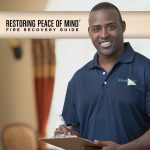 Various high-value content will require cleaning by a specialist. Our technicians will work with your insurance agent in addition to helping you identify these items and locate a qualified specialist.
Who will pay for the service?
You as the property owner are ultimately responsible for the payment of the restoration services. There will also be a form authorizing payment of the services that will require your signature. If it is an insurance claim, Elements Restoration usually collects the deductible. The rest of the balanced will be billed to your insurance company and provide you with a copy at your convenience. If you are dealing with a large loss, your mortgage company may be listed as a payee on the invoice from your insurance company. You may also need a signature from them as well. If the claim is not covered by insurance or you decide not to file the claim, the payment is expected to be made in full at the time of the service.
For professional fire damage restoration services in WA, call Elements Restoration 24/7 at (253) 470-2401 .
---
Recent Reviews
Review by Wyatt James
Disaster Restoration
Rating 5

"Quality work, very respectful, easy to get ahold of"
---
Review by Carol Hildebrand
Disaster Restoration
Rating 5

"We had a water leak in our home and we immediately had a plumber come out to fix it quick. Our plumber suggested we call Sara at Elements Restoration as she would come out quickly and let us know if the damage warranted a homeowners claim or not as the water ran into two rooms in our basement. Sara and Tori were out hours later..not kidding! They would've been sooner but I forgot I had a Zoom meeting so asked her to come later. They checked our home thoroughly and broke the news that this was a bit more damage that what we had thought and advised us to contact our homeowners insurance. We did that and our adjuster said he'd worked with Elements before and trusted their work and gave the go ahead to start demoing our kitchen and two rooms downstairs to find the extent of the damage without having to come out in this Covid world we live in. We had the pleasure of having Dennis and Andrew as our crew and I can't say enough good things about these two. Not only were they professional, courteous, considerate, but they did a great job and were so good putting up with me as I stuck my nose in to see how much of my home was getting ripped up and what kind of damage they found. We also had a bit of a hiccup with our HVAC company as they needed to pull our furnace and water heater and they were holding up progress but Dennis was so patient and actually spoke to them for me to explain what he needed done. They kept me informed every step of the way and truly were a pleasure to have in our home. The only downside is that they can't do our entire job as they aren't remodeling contractors! I give this company and their staff 10 stars out of 5...they are just that good! AND the bonus of supporting small local business was another huge plus for us! Thank you Sara, Andrew and Dennis...you are the best and I will recommend your company to anyone who needs a restoration company! You made an unpleasant situation more than bearable and did an incredible job keep us informed of the process every step of the way! Thank you for everything you do!!"
---