Disasters that occur in office buildings and commercial spaces can result in rather significant costs due to reconstruction efforts and operational time that is lost. Because of this, a swift reaction and effective restoration partner can result in immediate savings.
Here at ServiceMaster EMT, we provide commercial restoration services to address these exact scenarios. We operate in and around Orange, CA, and are among the best in the industry when it comes to restoring property following a fire, a flood, mold growth, a damaging accident, or really anything else. Our highly experienced technicians will get your company in a safe, operational capacity both efficiently and effectively.
Commercial Restoration in Orange, CA
ServiceMaster EMT is a highly respected name in the restoration industry for good reason. We have assisted a variety of property owners, from those in small residential settings to others in expansive commercial enterprises. In business cases, we understand that any amount of time away from operations is too long, which is why we work as efficiently as we can, while ensuring a quality result.
Our commercial restoration services are all encompassing. We can handle anything from initial evaluations and planning, to actual reconstruction and restoration services, all the way through final inspections. We have the ability to act as your sole point of contact, manage the entirety of the project, and eliminate the headaches typically associated with working with multiple contractors. This saves you both time and money in their own rights.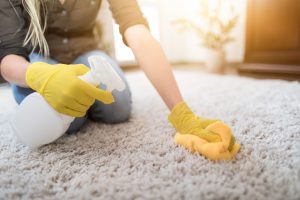 Some of the commercial reconstruction and restoration services that we provide include the following:
Initial inspections
Emergency board up and stabilization services
Cost estimates
Permit acquisition
Debris removal
Complete restoration services
Project management
General construction (carpentry, electrical work, plumbing, painting, flooring, etc.)
Quality control inspections
Insurance claim assistance
To get a better idea of the kinds of disasters we typically address, please see our areas of expertise below:
Board up and tarping services
Construction services
In all of the above situations, and more, it is important to remain conscious of the health of your employees, business associates, and clients. All personnel should be safely evacuated following a damaging event, and during restoration procedures. Risks of respiratory infections, disease contraction, and accidents will reduce dramatically as a result. When our services are complete, your property will be left in a highly sanitized and safe condition.
Available 24/7
To take advantage of our commercial disaster restoration services, please feel free to give us a call at (888) 767-9075.
Our ServiceMaster EMT representatives are available 24 hours a day to respond to emergencies in the Orange, CA area and will have experienced technicians on your property in short order.
---
Related Commercial Restoration Services:
Commercial Restoration Tustin, CA
Commercial Disaster Restoration Newport Beach, CA
Commercial Disaster Restoration Professionals Garden Grove, CA
Commercial Restoration Company Henderson, NV
Commercial Restoration Services Las Vegas and North Las Vegas, NV
September 24, 2021
Augustus Brunswick
Las Vegas, NV
September 23, 2021
Mohammad Anwar
Chino Hills, CA
More Reviews