A natural disaster, such as a fire, storm, flood, or even accident can occur at any time. Sometimes there isn't much you can do but try to limit the damage from being too extensive.  Furthermore, each of these disasters has the potential to cause devastating structural damage to a home or building which can leave it unstable and in danger of further damage.  When this happens, you must call a professional immediately to get the building stabilized and form a reconstruction or remodeling plan.
ServiceMaster EMT provides reconstruction services to rebuild homes and commercial buildings that have sustained severe damage in Orange, CA.  We arrive quickly to stabilize the building as our construction professionals will ensure that it is rebuilt or remodeled in a timely manner.
Construction Services Orange, CA
It can be quite difficult to deal with extensive property damage as it is normal for homeowners and property owners to feel unsure about what to do next.  Deep structural damage requires remodeling or construction services, but the process is often disruptive to daily life and business activities.
But ServiceMaster EMT will bring some relief to the situation by getting your home or building stabilized and forming a detailed reconstruction or remodeling plan.  Our staff consists of carpenters, handymen, and subcontractors who are highly trained and equipped to handle full scale reconstruction and home remodeling projects.
We will also assign a project manager who will explain the process to you and be available to answer your questions and provide updates on the project.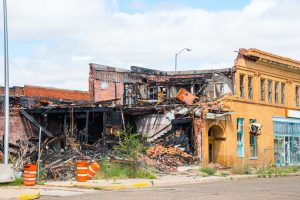 Our reconstruction and home remodeling services include:
Full remodeling
Consultation and design
Full service general contracting
Permits and licenses
Architectural reports and blueprints
Carpentry, framing, and custom woodwork
Painting and staining
Roof repair and replacement
Carpet and flooring
Custom window treatments
Smoke sealing
Wallpapering
Plumbing and electrical work
As soon as you notice serious damage to the exterior or structure of your home or building, call ServiceMaster EMT for stabilization and reconstruction.  Our technicians will form a detailed reconstruction or remodeling plan and follow through with every step of the process to return your home or building to its original condition.
Available 24/7
We are available 24 hours a day at (888) 767-9075 to respond to all emergencies in Orange, CA.
---
Related Construction Services:
Reconstruction Services Garden Grove, CA
---
September 23, 2021
Mohammad Anwar
Chino Hills, CA
More Reviews