(763) 301-5000
Homes with excess moisture or water may be vulnerable to mold growth which can cause property damage and increase certain health risks. RestorationMaster provides mold removal and repair services to eliminate mold growth and repair the property damage it causes to homes and businesses. We are on call 24 hours a day to respond to mold remediation needs in the Maple Grove and Brooklyn Park, MN area.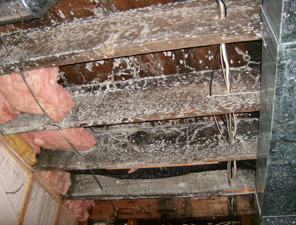 Our trained staff begins our mold cleanup services by testing the property for moisture exposure. With these tests, we can determine the length of time of the moisture exposure, the amount of moisture absorbed, and how deeply it was absorbed. Once we perform these tests, we start the mold repair and cleanup process and make sure to preventcontaminating the surrounding areas as we work. Our technicians remove all mold growth completely by using the best products, methods, and equipment available.
Our mold remediation process includes:
Locating and fixing the source of the moisture.
Cleaning or replacing contaminated surfaces.
Keeping workers, clients, and their homes safe and protected.
Preventing the mold from spreading to other areas.
If you discover mold or mildew growth in your home or business in the Maple Grove and Brooklyn Park, MN area, contact RestorationMaster at 763-301-5000 for mold remediation and repair services. Our technicians are ready to respond to mold cleanup needs 24 hours a day, 7 days a week.