(888) 583-5345
Mold and mildew growth may appear within a home or a building that has experienced flooding or high moisture levels and if it is not removed, mold can cause property damage as well as a number of health hazards.  RestorationMaster provides mold and mildew remediation to Eden Prairie, MN to remove mold growth and repair any damage the growth has caused.  We are on call 24 hours a day to provide quick mold removal services to homes and businesses in Eden Prairie, MN.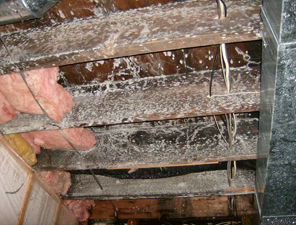 Because mold growth is typically a sign of water damage, our mold removal and mildew cleanup services begin with testing to determine the extent to which the property has been exposed to moisture.  With these tests we can discover how long the property has been exposed to moisture, how much has been absorbed, and how deep the moisture has been absorbed.  The mold remediation and mildew cleanup process begins after these tests and as we work, we make sure to contain the contamination so it does not spread to other areas of the home.  Our staff completely removes mold growth using the best products, methods, and equipment available and restores areas that have been damaged by mold growth.
Our mold remediation process includes:
Finding and fixing the source of the moisture.
Cleaning or replacing surfaces affected by mold growth.
Keeping workers, clients, and their property protected as we work.
Preventing the contamination from spreading.
Once mold growth is discovered in a home or business, it is important to contact RestorationMaster at 888-583-5345 immediately for mold removal and mildew cleanup services.  We are on call 24 hours a day, 7 days a week to provide emergency mold remediation services to the homes and businesses of Eden Prairie, MN.