(888) 583-5345
Mold can pose several major health risks within a home and its growth is normally a symptom of water damage or excessive moisture. RestorationMaster can eliminate mold growth from homes and businesses in Bloomington, MN and repair the damage it caused with our mold removal and cleanup services. We are available 24 hours a day, 7 days a week to provide emergency mold remediation to the Bloomington, MN area.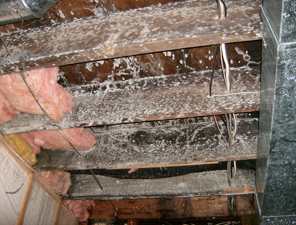 Because mold growth is a sign of water damage, our staff begins our mold removal services by administering initial tests to determine the extent of moisture exposure; including the amount of time of the exposure, the amount of moisture absorbed, and how deeply it has absorbed. After these tests, we start the mold removal procedure and work quickly to make sure other areas of the home are not contaminated in the process. Our technicians use the most advanced products, procedures, and equipment available to protect your furnishings and ensure that the mold is completely removed.
Our Bloomington, MN mold removal process includes:
Locating and fixing the moisture source.
Cleaning or replacing surfaces with mold growth.
Keeping clients and workers safe in the process.
Preventing the contamination from spreading.
If mold growth is discovered in your home or business, contact RestorationMaster immediately for mold remediation. Our technicians can be reached 24 hours a day, 7 days a week at 888-583-5345 for emergency mold removal services in Bloomington, MN.