(888) 583-5345
Excessive moisture or flooding can cause water damage in a short period of time and RestorationMaster is ready to respond quickly to water damage restoration and flood cleanup emergencies in Bloomington, MN and the surrounding communities. Water damage is a serious situation which is why we can be reached 24 hours a day, 7 days a week to respond. It is important to begin water damage cleanup immediately because the damage claims will continue to increase and cost you more money the longer the problem is ignored.
At RestorationMaster, our technicians use the most advanced products, procedures, and equipment in the industry to provide high quality water damage cleanup services and keep your property and furnishings protected in the process.
What to do after water damage in Bloomington, MN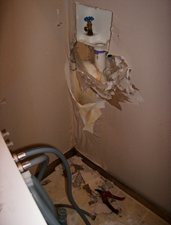 Water damage can cause huge losses if the problem is not dealt with quickly so the first step is to contact RestorationMaster for water damage cleanup. As you wait for us to respond, performing these actions could give you a head start on the process:
Remove excess water by mopping or blot drying the area.
Remove wet area rugs and floor coverings.
Prop draperies to the rod with a coat hanger to keep them off the floor.
Wipe off wet furniture, prop up the cushions for even drying, and put aluminum foil under the legs of the furniture.
Move photos and paintings somewhere safe and dry.
Open all drawers, doors, and cabinet doors to help with drying.
What NOT to do after water damage
Do not enter a flooded room until the electricity is turned off.
Do not remove water with a vacuum cleaner.
Do not remove permanent carpeting without professional assistance.
Do not use electrical appliances while standing on wet flooring.
Do not disturb mold growth.
Do not remove wet books from the shelves, they should be packed together tightly to keep the pages from warping.
Our water damage cleanup process includes:
Inspection and assessment
Water removal
Anti-microbial application
Drying: Air movement
Drying: Dehumidifying
Drying: Monitoring
Sewage Backup Cleaning
If the water in your home contains sewage, then the situation is much more dangerous and can potentially lead to extensive damage. The most common ways sewage can end up in your property is through a sewage backup or if your property is flooded by water already contaminated by sewage. Sewage water has the potential to cause permanent damage because the materials that absorb the water also absorb the waste materials with it. The waste materials in sewage also contain bacteria and toxins that can put your health at risk.
Our technicians at RestorationMaster can provide safe and effective sewage cleanup. We will extract all sewage water and restore or replace the affected materials depending on the damage. We will also make sure all affected areas are cleaned and restored so they are safe for use.
If your home or business in Bloomington, MN has been damaged by flooding or excessive moisture, contact RestorationMaster at 888-583-5345 for water damage and flood cleanup. We are on call 24 hours a day, 7 days a week to provide emergency water damage restoration services.