(262) 395-7793
Dealing with the after-effects of blizzards and rainstorms in the Kenosha, WI area is never easy. It can create numerous inconveniences, including having to shovel, cold conditions, slippery sidewalks, and large puddles in the yard. However, these are only minor compared to the severe damage they can actually cause. While heavy snow from blizzards can cause roofs to collapse, it can also create excessive flooding in the spring time as you may discover large puddles in your basement. In addition, strong winds are associated with thunder and rainstorms, blowing over large objects. But if you have discovered severe damage on your property, do not hesitate to call RestorationMaster for emergency storm damage restoration services in the Kenosha, WI area. Our technicians have years of experience in fully restoring and repairing any damage caused by storms.
Wind and Water Damage Restoration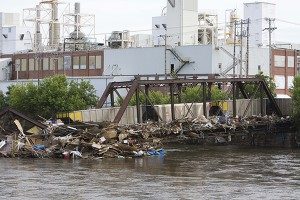 During the spring months, Wisconsin residents are prone to strong winds and severe water damage caused by a combination of melting snow, strong winds, and thunderstorms. While it is healthy for local vegetation, your building structure can become severely damaged in the process. Basements can flood from melting snow while the rain can create links in the roof. In addition, strong winds are able to carry debris, including rock and sticks to break windows. It can even blow over large objects, including telephone poles, signs, and trees. If they have fallen onto your building, the technicians at RestorationMaster will arrive right away to have it removed while repairing the damage. They are also able to repair any water damage caused by spring flooding or rainstorms. After the services are completed, your building structure will look as if it was never damaged at all.
Restoration and Repair from Blizzards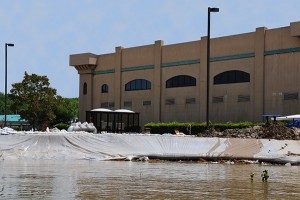 Except for kids and those who love winter sports, nobody really looks forward to a blizzard. All of the extra snow is associated with numerous inconveniences, not to mention the dangers that come with the icy conditions. While they can make driving difficult, create icy surfaces, and cause water damage, heavy snow can also collapse roofs. When this happens, property owners are faced with a large hole in their structure that can grow larger if the damage is not repaired right away. This is why RestorationMaster is available 24/7 to arrive immediately and patch the area, preventing the damage from spreading. They will then start the recovery process through restoration and reconstruction services. Finally, you can focus on other matters while not having to worry about the snow storm coming into your property.
Our storm damage restoration services completely cover all of the following:
Emergency tarping and board up services
Containment of the damage to the affected area
Removal of all debris around the property, including rocks, branches, sticks, and broken glass
Complete water and fire restoration
If you have experienced severe damage to your property as result of a strong rainstorm, thunderstorm, or blizzard, RestorationMaster is available 24/7 at (262)395-7793 to provide emergency storm damage restoration services in the Kenosha, WI area.