(585) 643-6222
It is very easy and quite common for excess water or moisture to find its way into a home or building and unless you take immediate action, a small amount of water can lead to significant damage.  Flooding, rain, leaking fixtures, pipe bursts, and sewage backups are among the most typical causes of water damage and once excess water or moisture starts to spread, it can cause staining or discoloration and create the right conditions for mold growth. 
RestorationMaster  
provides water damage restoration services to remove excess water and moisture from homes and businesses in Niagara Falls and Buffalo, NY.  We are available 24 hours a day and respond quickly to remove the excess water before it causes extensive damage or mold growth.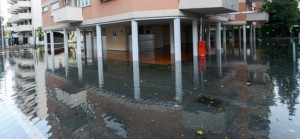 The technicians of RestorationMaster  work quickly to dry out homes and offices with our high speed structural drying techniques.  Water damage can spread quickly because many building materials found in homes and buildings such as drywall, insulation, and wood are porous and absorb water.  This can cause significant structural damage by weakening the materials and create the ideal conditions for mold and mildew to grow which will result in even more damage and increase certain health risks.  Our complete water damage restoration services include the following:
Removal of excess water and moisture
Drying and dehumidification
Restoration of water damaged structural elements, furnishings, and content
Cleaning and disinfection of affected areas
Mold and mildew removal
Deodorization
Content cleaning
Carpet and upholstery deep cleaning
Water Damage Restoration Process
Our technicians that respond to water damage restoration emergencies are IICRC certified and have the right equipment for water losses of any size.  We will thoroughly dry the structural elements and furnishings in your home with our Dri-Eaz technique which is designed to dry these items without having to remove or replace them.  We can also disinfect the affected areas and provide deodorization services to eliminate any lingering odors caused by the damage.  You can expect the following steps with our water damage restoration services:
Complete assessment of the water damage using moisture detectors
Extraction of standing water with truck mounted equipment
Moisture removal with advanced dehumidifiers and drying equipment
Drying with high-speed air movers
Deodorization and disinfection of the affected areas using germicides, sanitizers, and anti-microbial applications
All water damage should be treated as an emergency because of its ability to spread and cause mold growth so if you find water in your home or building in Buffalo and Niagara Falls, NY, do not hesitate to call RestorationMaster .  We can handle any size water loss and fully remove excess water and moisture with our advanced drying equipment and techniques.  You can reach us 24 hours a day at (585) 643-6222 for water damage restoration.