(585) 643-6222
Mold is one of the most dangerous substances you can find in your home or building because it causes significant property damage and exposure to mold can lead to negative health reactions.  The spores are always present in the natural environment and when they find an area with a moisture source and a food source, they will form into mold which will spread to other areas until it is removed. 
RestorationMaster 
 provides mold remediation services in Buffalo, NY to completely remove mold growth from homes and businesses.  We use advanced cleaning products and equipment that can remove mold effectively and we will also fix the moisture source to prevent the mold from growing back.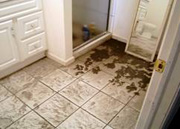 The sight of mold is an urgent problem because if it is ignored, it can eventually cause permanent damage on the affected surfaces and greatly increase the risks of negative health reactions.  Exposure to mold can trigger allergies or respiratory infections as well as inflammation, especially among children and the elderly.  Our technicians understand the urgency of removing mold and we arrive within 1-4 hours of your call to contain the contamination and remove it before it causes permanent damage.
Mold Remediation Process
After calling RestorationMaster  for mold remediation, open up the doors and windows in your home to help dry it out.  Excess moisture is a major cause of mold growth which makes reducing the moisture level an important part of mold remediation.  Our technicians will immediately contain the affected area to help prevent the mold from reaching new areas.  Our mold removal services include the following steps:
Complete removal of all mold
Restoration or replacement of damaged surfaces
Removal of mold spores from the air using an air filter or vacuum
As soon as you find mold growth in your home or building in Buffalo, NY, contact RestorationMaster  for mold remediation services.  We will contain the mold growth to prevent it from spreading any further and make sure it is completely removed to reduce health risks.  You can reach us 24 hours a day at (585) 643-6222 for mold remediation in Buffalo, NY.