(585) 643-6222
Flooding and sewage backups are the most serious causes of water damage in a home or building and they contain harmful materials that require professional removal.  Sewage water likely contains human waste and dangerous bacteria that can spread infection or disease and flood water can contain harmful microorganisms even if it is not also mixed with sewage. 
RestorationMaster  
provides flood and sewage cleanup services to safely cleanup and restore homes and buildings in Buffalo, NY that have experienced flooding or sewage backups.  We will remove the excess water and disinfect the affected areas to eliminate health risks.
Flood Damage Restoration
When a home experiences significant flooding due to heavy rain or natural flooding, there is a chance that it could be contaminated with microorganisms.  These microorganisms can cause illness or infection if they are mishandled which is why it is best to hire our professionals to clean up the flood damage.  We can safely remove the flood water from your home or building with our high speed structural drying services and disinfect the area to kill harmful microorganisms.  The complete flood damage cleanup services we provide include:
Flood water extraction and drying with advanced drying equipment
Drying of furnishings and affected surfaces
Disinfection of contaminated areas
Carpet and upholstery deep cleaning
Sewage Cleaning
Sewage backups must be treated with extreme caution because the sewage may contain very dangerous waste and bacteria that can result in serious health effects as well as mold and mildew growth.  Our technicians can safely remove sewage water as well as clean and disinfect the area with our specialized cleaning products.  Our sewage cleanup services consist of the following steps: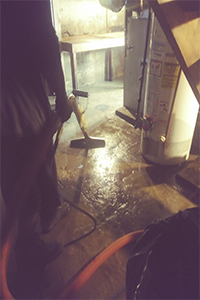 Water extraction and drying to remove sewage water
Removal of affected porous materials such as drywall, carpeting, molding, and insulation
Use of cleaning agents and anti-microbial applications to disinfect non-porous surfaces
Deep cleaning of carpeting and upholstery
Use of dehumidifiers for fast drying
Odor removal if necessary
Sewage backups and flooding require immediate attention from a certified professional because they contain harmful microorganisms and bacteria.  If your home or building has experienced a flood or sewage backup in Buffalo, NY, contact RestorationMaster  for our flood and sewage cleanup services.  You can reach us 24 hours a day at (585) 643-6222 to respond to emergencies in Buffalo, NY.