(585) 643-6222
Upstate New York is prone to severe weather year round that can result in extensive property damage.  Floods, thunderstorms, blizzards, and strong winds can cause exterior and structural damage to a home or building and this damage must be stabilized and repaired right away to prevent the damage from becoming more severe. 
RestorationMaster  
provides storm damage restoration services in Buffalo, NY to help rebuild homes and businesses badly damaged by severe weather.  We will work quickly to stabilize the damage and get your home or building repaired as soon as possible.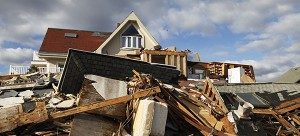 The storms that pose the most threat to the Buffalo, NY area include blizzards, ice storms, severe thunderstorms, and even tornadoes.  Each of these storms can potentially have strong winds that damage the siding or roofing of a building or blow over large objects including trees or utility poles onto a home or building.  Storms that involve flooding can lead to severe water damage if it gets into your home and the weight of ice and snow from a blizzard can cause damage to the roof or other structural elements.  At RestorationMaster , we have the equipment and the expertise to get your home or building repaired following any type of storm damage and we will make sure your property is free of debris from the storm or construction process.
Wind Damage Repair
The wind is usually the main cause of damage during any type of storm as it can tear apart roofing and siding and even cause damage to your windows.  It is difficult to tell when a storm will have strong enough winds to cause significant damage to your home which makes it best to always be prepared for the worst.  If your home or building is severely damaged by strong winds, our technicians can provide wind damage repair which includes these steps:
Removal of natural debris including tree branches and shrubs
Removal of non-natural debris such as glass and other building materials
Tarping and board ups for stabilization
Repair of damaged roofing, siding, and other structural elements
You should never hesitate to get help if your home or building is damaged in a storm because the damage can continue to become worse until it is addressed.  Make sure you call RestorationMaster  right away if your property in Buffalo, NY has been affected by a severe storm.  You can call us 24 hours a day at (585) 643-6222 to respond to emergency storm damage.