RestorationMaster
Homes and businesses in Bethlehem, PA are vulnerable to all sorts of damage from natural disasters. Fire damage, natural floods, hurricane damage, mold growth, and much more can cause major issues for property owners. If your home or business suffers damage, it's best to get in touch with a disaster restoration company that can effectively repair and restore the property.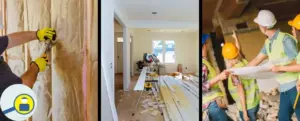 Aftercare Restoration provides reconstruction and construction contractor services for homes and businesses in Bethlehem, PA. Our technicians are IICRC-certified and are available 24/7 to repair structures, rebuild home and facilities, and remodel and restore properties throughout the Bethlehem, PA area.
The construction crews at Aftercare Restoration have worked to restore properties in Bethlehem, PA for over 30 years. We schedule construction projects quickly and deliver fantastic results with transparent pricing and planning.
In addition to general construction and remodeling, our certified team of workers are specialized in fire damage restoration, water restoration, and other specific types of repair expertise. You can trust that Aftercare Restoration will have the right reconstruction professionals on the project site.
The reconstruction services we provide in Bethlehem, PA include:
General contracting
Repair and restoration of woodwork
Framing and carpentry
Drywall removal and installation
Roof and siding repair
Painting, staining, and wallpapering
Contact Us for Reconstruction Work in Bethlehem, PA
If your home or business in Bethlehem, PA has experienced severe damage due to fire, water, or other natural disasters, contact Aftercare Restoration at (215) 774-3120   for reconstruction services.
We are available 24/7 to provide emergency construction efforts in the Bethlehem, PA area.
---
Related Reconstruction Services
Reconstruction services and construction contractors – Emmaus, PA
Reconstruction services and construction contractors – Macungie, PA
Reconstruction services and construction contractors – Breinigsville, PA
Reconstruction services and construction contractors – Allentown, PA
Reconstruction services and construction contractors – Alburtis, PA