When cleaning a home or office, it is usually difficult to deep clean the space because of large items such as furniture and appliances. Your home or office can be cleaned much more thoroughly when it is empty which makes moving out a great opportunity to fully clean your current space as well as your new space. When you move out of a home or office, it is wise to have it cleaned one last time while its empty and having your new space cleaned will help get it ready before you move in. RestorationMaster provides move in/ move out cleaning services in Aurora and Montgomery, IL to thoroughly clean empty homes and offices. These services are ideal for making sure your new home or office is in great shape when you move in, and cleaning your current space will get it ready for the next owners or tenants.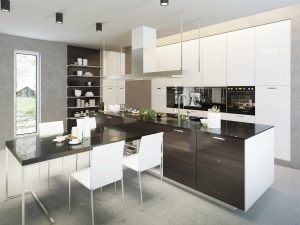 Our cleaning professionals can thoroughly clean and sanitize walls, flooring, light fixtures, plumbing fixtures, windows, and appliances after your furniture and other personal items have been moved out. We start with a complete evaluation of your home or office to see what needs to be done and form a cleaning plan according to our evaluation and your specifications. We make sure to thoroughly clean the home or office from top to bottom using our specially formulated cleaning products and equipment. These services help guarantee that you are leaving behind a clean home or office and moving into a new space that has been cleaned and sanitized.
We will clean the following areas with our move in/ move out cleaning services:
Living Rooms/ Bedrooms
We vacuum the carpets and clean hard surface floors.
The room is dusted and vacuumed, including inside closets.
We will clean light fixtures and ceiling fans.
Walls and baseboards will be washed.
Kitchen
We will clean all cabinets and pantries.
Countertops are thoroughly cleaned and sanitized.
We will clean ovens and stovetops.
The refrigerator is cleaned thoroughly, inside and out.
The floor is cleaned and mopped.
Bathroom:
Tile and grout surfaces are cleaned.
Toilet, sink, and shower will be completely cleaned and sanitized.
Vanities and medicine cabinets are thoroughly cleaned out.
We will clean the mirrors
We will deodorize the bathroom to remove lingering odors.
Our move in/ move out cleaning services will help take some of the stress out of moving because you will have the freedom to focus on packing and moving while we clean your new or current home. Cleaning your home or office one final time before moving out is a nice courtesy to the next people who are moving in. If you are moving to a new home or office space in Aurora, IL, Montgomery, IL or the surrounding areas, contact RestorationMaster for move in/ move out cleaning services. Give us a call at (630) 796-6252 to schedule an appointment for these services.