(630) 796-6252
On a given day, much of the workforce in the U.S. finds themselves in an office building. The office is almost like a second home to some people and working in a clean and comfortable environment does wonders for worker morale, health, and productivity. Keeping a clean office will also help maintain its appearance which will make a good first impression on potential clients, customers, and employees. However, some companies may not be able to hire an in-house cleaning staff to provide consistent maintenance. RestorationMaster provides commercial office cleaning services to effectively clean office spaces in Aurora and Montgomery, IL. We will clean every aspect of your office to provide a healthy working environment and keep it looking its best.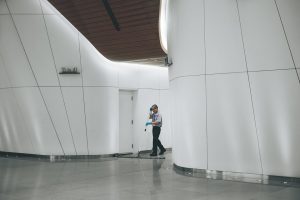 Office buildings are havens for buildups of dirt, dust, and bacteria and if they are not cleaned on a regular basis, these buildups can eventually lead to health issues and make your office appear dirty or unkempt. Dirt and dust constantly gather on the flooring, carpeting, and furniture including desks and shelves and desk tops have a surprising amount of bacteria. Hiring a professional cleaner to effectively clean and sanitize the office space is the best option for businesses that do not have an in-house cleaning staff.
Reliable Office Cleaning Services
At RestorationMaster, our cleaning professionals use our specially formulated cleaning products and proven techniques to completely clean and sanitize your office. We make sure to clean everything in your office including the furniture, flooring, and light fixtures and we can create custom cleaning plans according to your specifications. You can expect the following from our office cleaning services:
Dusting of all furniture including desks and shelves
Hard surface floor cleaning and vacuuming for carpets
Desk top cleaning and sanitization
Vacuuming of upholstered furniture
Complete bathroom cleaning
The best way to ensure that your office is clean is with consistent maintenance. RestorationMaster offers weekly, bi-weekly, and monthly scheduled cleaning services to clean and sanitize your office on a regular basis. If your office in Aurora, IL, Montgomery, IL and the surrounding areas could benefit from professional office cleaning services, call RestorationMaster. You can set up a cleaning appointment for your office by calling us at (630) 796-6252.