There is nothing better than coming home to a clean house but if your work schedule is busy or if you spend a lot of time away from home, you may not be able to effectively clean your house yourself. Cleaning your house requires time and effort that you may not have and in this case, it is best to hire a cleaning professional to do the work for you. Merry Maids of DuPage West provides home cleaning services to clean and sanitize your entire home in Aurora and Montgomery, IL. We create a customized cleaning plan according to your specifications and make sure every room of your home is vacuumed and cleaned from the ceiling to the floor.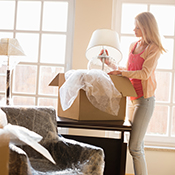 Our cleaning professionals have experience providing effective house cleaning and maid services and we are committed to cleaning your home to your satisfaction. You can tell our cleaning professionals if you have any specific requests or areas that need extra attention. Our house cleaning services cover the following areas:
Living Room/ Bedroom Cleaning
Dusting of all furniture, shelving, picture frames, light fixtures and other items as well as removal of all cobwebs.
Vacuuming of the carpet and thorough washing of hard surface floors.
Vacuuming of the furniture.
Emptying garbage cans.
Kitchen Cleaning
The kitchen must be cleaned to provide a safe place to prepare food. We will do the following to clean your kitchen:
Clean kitchen tables, chairs, cabinets, and appliances
Clean and sanitize sinks, backsplashes, and countertops
Clean the outside of the refrigerator and the stovetop
Clean the inside and outside of ovens and microwaves
Mop and wash the floor
Bathroom Cleaning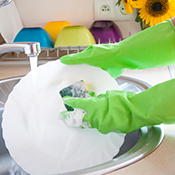 No one likes to clean the bathroom but it must be cleaned often because it is used on a daily basis. We will effectively clean your bathroom with the following steps:
Cleaning and sanitization of the bathtub, shower, and sink
Cleaning and sanitization of backsplashes, vanities, and the toilet
Mirror cleaning
Polishing of chrome fixtures
Washing of tile surfaces including floors and walls
Odor removal
Additional Home Cleaning Services
We provide a variety of additional cleaning services to handle the chores that you don't have time to do. These services include:
Window washing
Cabinet cleaning
Oven and refrigerator cleaning
Wall washing
Furniture cleaning
Basement cleaning
Packing and unpacking
Post-construction cleaning
The cleaning professionals of Merry Maids of DuPage West are bonded and insured and use our specially formulated cleaning products along with our effective methods to thoroughly clean your home. We will arrive right at the time of the scheduled cleaning, prepared to complete the job according to your customized plan. We can also help keep your home consistently clean with our weekly, bi-weekly, or monthly scheduled cleaning services.
If your home in the Aurora and Montgomery, IL area could benefit from professional cleaning services, call Merry Maids of DuPage West for effective home cleaning services. Give us a call at (630) 796-6252 for more information or to set up an appointment.