DeDona Restoration
Finding mold in your home or business can seem like a problem that can be put off for a while. Unfortunately, mold can cause damage to both your home or business and your health. Mold grows in dark and damp areas of the house. It can attach itself to the structural materials of the building, causing damage to the materials that threatens their structural integrity. In addition to this, mold can also negatively impact your health, causing allergies and other respiratory issues.
At DeDona Restoration, our team of trained technicians provides thorough mold remediation services in the Valencia, CA area. Our technicians will completely contain and eliminate the mold growth, making sure to clean and sanitize the affected area to ensure there is no regrowth. We will then repair and restore any structural damage that has occurred to keep your home or business safe.
Problems Caused by Mold Growth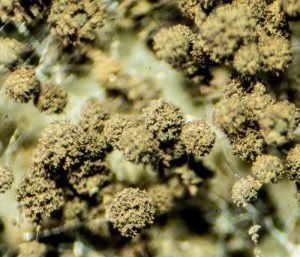 Mold is parasitic when it comes to the materials in your home or business. Because mold needs a moist environment to survive, it can grow in basements, attics, crawlspaces, bathrooms, behind drywall, and many other places. Mold feeds on natural materials found in wood, drywall, and other building materials, and it can directly affect the structural integrity of your home or business.
Mold can also affect your daily life by causing negative health effects. Exposure to mold can cause allergies, asthma, wheezing, ear and throat irritation, and many other issues. Headaches and fatigue can also be caused by mold and its spores.
Call the professionals at DeDona Restoration right away to protect your health and your property from mold.
Mold Remediation from DeDona Restoration
Our team at DeDona Restoration is prepared to take on any mold problem in your home or business. Our team will start your mold damage remediation by creating negative air pressure to stop any mold spores from spreading during the process. We then remove all mold growth, cleaning and disinfecting the area to prevent any further mold growth and damage. If there is any structural damage, we will repair and restore your home or office to its original state to protect your health.
Our mold remediation and restoration services include:
Detection and assessment of all mold growth
Isolation of the affected areas and containment of the mold spores with negative air pressure
Removal of mold growth and contaminated materials
HEPA vacuuming to remove mold spores
Restoration and repair of damaged materials
Cleaning and disinfection of affected areas and materials
Contact Us
Call DeDona Restoration as soon as you notice a mold problem. Our professional technicians are ready to help keep you safe and restore your property. Contact us at (661) 471-3063 for professional mold remediation in Valencia, CA.
---
Recent Reviews
Review by Sean Lewis
Disaster Restoration
Rating 5

"I hired DeDona Restoration to complete a COVID disinfectants of my Business. The company was knowledgeable and professional. My employees feel safer having DeDona Restoration in our business. I would highly recommend you contact them I can guarantee they can make you feel the same"
---
Review by Whitney Shue
Disaster Restoration
Rating 5

"DeDona is my go to for all things mitigation and restoration, solely for the amount of experience the owner withholds. I trust the quality of the work to be top notch, and my property to be returned back to pre-loss conditions."
---
Review by Laura J.
Disaster Restoration
Rating 5

"I hired Dedona for the purpose of a covid cleaning, they are very knowledgeable and professional. while performing this task, the technician found a small spot where mold was starting to grow, Dedona brought this to my attention and continued with the clean. About a week after my cleaning, I called dedona back to handle my mold situation, again, very knowledgeable and very professional. I would definitely recommend their services to friends and family."