The Value of Getting Google Reviews
To increase their customer base businesses have to not only provide a quality product or service, but also gain credibility and trust.  One of the best ways to build credibility for your brand and increase your online reputation is by getting good Google reviews.
The majority of online searches for products and services take place through Google.  This means that having good rankings in the search engine results pages (SERPs) will help increase your traffic and contribute to a higher number of leads for your business.  Many businesses invest in getting good rankings in the SERPs by creating valuable content, running pay-per-click (PPC) campaigns, and working with digital marketing agencies that provide SEO services.  While these investments will help improve your rankings and generate leads, Google reviews can also have a major impact.
Reviews can improve your rankings on Google Maps and build credibility among your audience.  People put a lot of trust in Google reviews and having good reviews can help level the playing field when it comes to local businesses.  Investing in SEO services, PPC campaigns, and creating valuable content are still necessary and important for getting good rankings, but companies should also seek Google reviews to supplement these efforts.
In this guide, we will discuss the value of good Google reviews as well as how to get your customers to leave Google reviews for your business.
What is Google My Business?
In order to get Google reviews, your business must first set up a Google My Business listing.  A Google My Business (GMB) listing, also referred to as a local listing, is a free tool in which businesses create a company profile that includes their important business information such as address, contact info, website, hours of operations, products and services, and more.  Businesses with a GMB listing also show up in Google Maps when users search for businesses in their area.  The Google Maps listings appear below paid ads but above the first generic results in the SERPs, making it very important for your SEO strategy to have a GMB for your business.
Google Reviews Through GMB
It is on your GMB profile that customers can write and read reviews.  While there are plenty of review sites that people can use to read the reviews of a local business, a 2018 study by Review Trackers shows that more then 63 percent of consumers trust Google reviews over other sites.  When you also consider that over 90 percent of people shopping online read reviews before making a purchase, Google reviews become very important for increasing leads and building your brand online.
Google reviews are public reviews in which customers detail their experiences with a company, product, or service and rate their experience on a scale of 0-5 stars.  Businesses can respond to customer reviews, creating a feedback loop that can be quite valuable.
The content of the reviews and the ratings that people give your business are important.  The same 2018 Review Trackers study found that businesses with a rating below 4.0 are not trusted by 80 percent of consumers.  It is highly beneficial for your business to get as many positive Google reviews as possible and to quickly respond to negative reviews to show consumers that you take your customers' opinions seriously and are dedicated to constantly improving the customer experience.
Benefits of Google Reviews
The following are the main benefits of getting good Google reviews.
1. Increase Trust and Credibility
As mentioned above, Google reviews can increase the credibility of your company among your audience and help build trust.  This is becoming more important as consumers expect a degree of transparency from brands and they want to know that a business can be trusted to deliver before doing business with them or making a purchase.  With more than 90 percent of consumers reading reviews before making a decision, having plenty of positive reviews and a rating of 4.0 or higher will help increase traffic and generate more leads.
2. Increase Online Presence and Improve Local SEO
Positive Google reviews not only build trust and credibility with your target audience, but also with Google.  Google reviews make up around 9 percent of Google's search algorithm according to Moz which focuses on three main signals: quantity, velocity, and diversity.  Google will notice when a business is getting a lot of positive reviews and good ratings because this shows the trustworthiness of your brand which leads to better rankings.  Google values websites that are trustworthy and credible and positive Google reviews are a great way to measure this.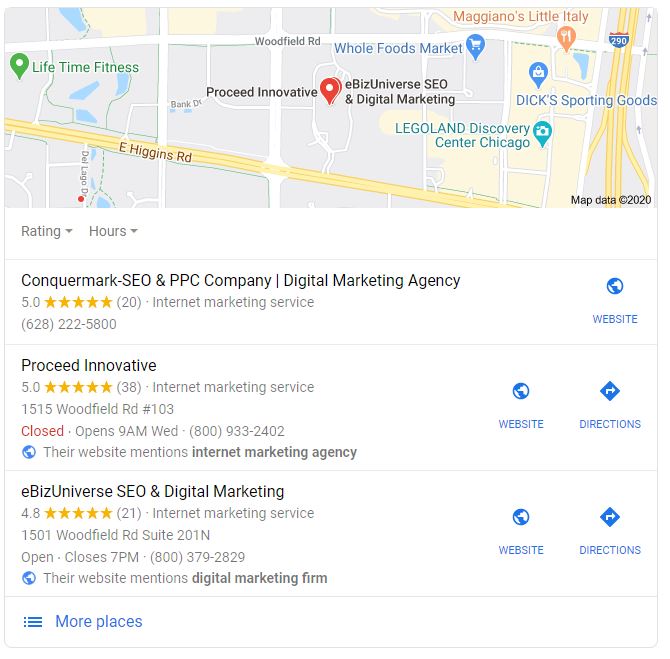 Businesses that get many positive reviews on their Google local listings are also more likely to show up in what is referred to as the "map pack."  When you search for a product or service in your area, you will first see the list of paid ads, followed by the map that will show three local business listings.  The Google Maps listings appear above the first organic search results and are highly coveted because of this.  Appearing in the map pack is a tremendous advantage for your business.
3. Gain Insight Through Feedback Loop
As mentioned briefly above, Google reviews create a feedback loop in which businesses can gain further insight from their customers and evaluate their own performance.  Customers will provide valuable information in their reviews that will help you understand what your business is doing right and where you need to improve.
It is important to respond to Google reviews, both positive and negative, to show your commitment to providing the best possible experience for your customers.  Do not be discouraged by negative reviews as these reviews will help you identify areas that need improvement and responding to negative reviews can help build trust among your customers (more on that later).
4. Improve Website Traffic and Click-Through Rates
We have already discussed how positive Google reviews and good ratings will increase trust with your brand and make your website more visible.  As a result, your website will have a higher click-through rate (CTR) when it appears high in the SERPs.
5. Increase Lead Generation and Conversions
The higher CTR will help improve lead generation by bringing more people to your website.  While it is important to have a user-friendly website with valuable content, the ratings from your Google reviews alone can be enough to lead to a conversion.  Make sure your website has an appealing and easy to navigate design, as well as valuable content, so you can increase your conversion rate as your Google reviews bring in more leads.
How to Respond to Negative Google Reviews
Negative reviews are inevitable as even the most credible and trusted businesses will have a customer voice their displeasure after a bad experience.  In fact, customers that have had a negative experience with your business are more likely to leave a review, so you need to be prepared to respond to bad reviews.
If your business receives a negative review, respond to it as quickly as possible.  Show the customer that you value their opinion and that your company is serious about resolving the issue.  This also gives you the opportunity to explain the issue from your perspective which might give the customer a better understanding of what happened.  When you respond to a bad review, your response will be seen on your Google reviews.  When potential customers see your responsiveness and willingness to resolve issues with your customers, this can help build trust and credibility.
How to Get Google Reviews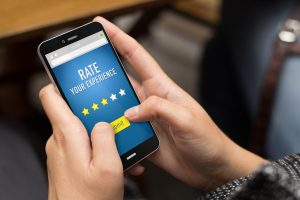 Google reviews can benefit your business in so many ways but getting reviews can be difficult.  Ultimately, it is your customer's decision whether or not to write a review.  The best thing you can do is encourage your customers to write reviews, especially when they have had a great experience with your company.
1. Getting good reviews starts with excellent customer service.  Your employees need to treat your customers with respect and make them feel valued while serving them.
2. To encourage reviews, form a strategy to ask your customers for a review.  If your business is a service-based business, have your employees encourage your customers to write a review after the service is done.
3. If you are a product-based business, send a follow up email to your customers after a purchase with a link to review your products and their interaction with your company.
4. You can also ask for reviews in email newsletters and on social media.
5. Running a promotion in which customers who leave reviews can earn discounts is another great way to encourage reviews.
You will not get a review from every customer you ask, but you may be surprised how many will respond to reviews.  According to a 2017 BrightLocal study, 68 percent of customers wrote a review when asked by local businesses.  You must avoid paying for reviews as this goes against Google's guidelines and can result in a major drop in rankings.
Google Reviews Improve Lead Generation
Google reviews can benefit your business in many ways from building trust and credibility to generating leads and increasing conversions.  It is in the best interest of all local businesses to have a strategy in place that encourages Google reviews from their customers to supplement their investment in digital marketing and SEO.
If you are a local contractor, you already know how difficult it can be to get quality leads that lead to a job.  At RestorationMaster, we provide exclusive leads for local contractors to help boost conversion rates and help manage GMB listings, including Google reviews.  Give RestorationMaster a call at (888) 860-7679 to learn more.