How Can I Stand Apart from My Disaster Restoration Competitors?
Disaster restoration is an emergency service.  Licensed professionals are trained and equipped to help homes and businesses that have experienced severe damage in their time of need.  Severe property damage can derail a business and interrupt the lives of homeowners.  Disaster restoration professionals are trusted to effectively restore damaged property and give peace of mind to those who have been affected by these disasters.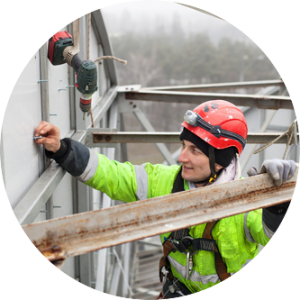 If you operate a disaster restoration business, then you know that it can be quite a competitive field.  Once a disaster occurs, homeowners and business owners are ready to call a reputable restoration professional to get their property restored as quickly as possible.  When such a disaster strikes, you want your business to be the one that homeowners and business owners call on.  This begs the question; how can I stand out from my disaster restoration competitors?
Homeowners and business owners will react quickly in an emergency to get their property restored, but they also want to trust that the contractor they call is a reputable professional.  Even though they will want to get a professional to their property as soon as possible, they will still take some time to check out different contractors to ensure they hire a company that can be trusted.  This is where effective internet marketing comes in.  There are several steps you can take to show users who find your business online that you are a reputable business that stands apart from your competitors.
In this guide, we will cover four effective online marketing strategies you can use to build trust and stand apart from your competition.
Take and Upload Original Business Photos and Before/After Images
Visual content is very important for getting attention on the internet.  Data from PR Newswire shows that  press releases that feature an image get 1.4 times more views than text only press releases while those with video content get 2.8 more views.  This also holds true for social media posts as MDG Advertising found that Facebook posts with images get a whopping 352 percent more engagement than posts with just text and links and even 20 percent more engagement than posts with videos.
Clearly, including good images on your social media posts, website, blogs, and other digital channels can give you an advantage because of the engagement they can generate.  However, you shouldn't put just any images up on your website and social media posts.  Many businesses fall into the trap of using stock images in their online content.  While this isn't always a bad idea, there are a couple of disadvantages of using stock images.  One disadvantage is the cost.  Good stock images are typically owned by someone or an entity and you will have to pay a fee to use them.  There are also images available that are free to use without worrying about payments or copyrights, but the free photos available are severely limited.
Perhaps the biggest issue with stock photos is that users are not nearly as receptive to stock photos and they know when they see them.  Stock photos have a generic feel to them which makes your business come across as impersonal.  A study by Venngage found that over 40 percent of marketers use stock images, even though only 13 percent of marketers said that stock images perform the best.  In this same study, 40 percent of marketers reported that original images performed the best.
The bottom line is that original images get the most engagement and generate the most interest.  Disaster restoration professionals have plenty of opportunities to use their own personal images on their websites and social media posts.  Take before and after pictures of job sites to show the results of your work.  You can also post pictures of your equipment and have photos of your staff on your about page and social media profiles.  This helps build trust by giving your company some credibility and putting a personal touch on your website and social media.  The other major advantage of using photos you or your employees take is that you own them and can use them however you want.
Create and Upload Videos
Videos are among the most highly consumed media on the internet.  They also tend to have the highest ROI of any other type of content.  People like to look for videos of products and services before making a decision and if your company posts videos of restoration jobs, this can give you a competitive advantage.
Working with a professional crew to shoot a video can be expensive.  However, you do not have to spend much money, if at all, to make a video as most smartphones are capable of taking good quality videos.  Restoration technicians can use their phones to take videos of the restoration process in the field that will generate interest among potential customers.  Posting these videos will cost your company next to nothing and help generate more restoration leads.
The following are the main advantages of video marketing for restoration contractors:
Educate customers on your process: Restoration services are only sought after out of necessity and many people looking for a restoration professional are not familiar with the processes. Taking videos of various restoration processes will educate your audience much more effectively than webpages and blogs that describe the processes.  Videos of the restoration will give potential customers a more intimate view of what they can expect if they call your business which helps build trust.
Engage mobile users: The majority of users watch videos online from their mobile devices. Posting videos that are optimized for mobile devices will help you engage with this audience.  Google has found that more than 50 percent of smartphone users will have a more favorable opinion of a company that provides instructional video content.  When posting your own videos, make sure they are properly optimized to appear and function properly on mobile devices.
Increase Google rankings: Users tend to spend more time on websites that have video content. Google notices when people spend more time on your website which can increase your rankings because this tells Google that your website provides quality content.  Posting your video on YouTube and embedding that video on your website also greatly increases the chance of your webpage showing up on page 1 of the search results because Google owns YouTube.  When you embed or post your videos, make sure you use good titles, descriptions, and tags.
Increase email newsletter click-through rates: If your business sends out an email newsletter, including a video in the email can increase your open rate and click-through rate (CTR). You do not need to include a long video to increase open rates by as much as 5 percent and the CTR by as much as 90 percent.
Reach potential customers across demographics: About one-third of online activity is watching videos. People of all ages and demographics spend a good chunk of their time online watching videos and posting your own videos allows you to reach a wider variety of people.  Your videos provide content to your audience that is personalized to your business and creative videos are more likely to be shared.
Get Reviews
One of the best ways to build trust among your audience is by getting good reviews on Yelp, Google, the Better Business Bureau (BBB), and social media.  Online reviews can have a major impact as around 90 percent of consumers claim that they trust online reviews and make purchasing decisions based on positive reviews.  Negative reviews can also have an impact by turning potential customers away from your business.
Disaster restoration companies can especially benefit from positive reviews as your customers will want to know that you provide quality work and outstanding customer service to help them through a crisis.  The trick is getting your customers to write good reviews.  The majority of customers who have a good experience generally do not feel as compelled to write reviews as those who have bad experiences.  Therefore, it is important to get your satisfied customers to write good reviews which will give your company credibility and help build trust.
You can approach your customers for reviews in the following ways:
Ask for reviews: Asking your customers to write a review for your business is the most direct way to generate reviews. Homeowners and business owners are usually very happy when their property is restored after a disaster which makes this a great time for your technicians to ask them for a review.  You can also ask for reviews over the phone with follow up phone calls.
Link on website: Including a link on your website and social media profiles to write a review is a more indirect way of generating reviews. Having this option available is better than having nothing on your website.
Follow up email: If your business follows up with customers with an email after the job is done, ask them for a review and include links to the review sites.
Once your business starts getting online reviews, you cannot ignore them.  Monitor your reviews and respond to both positive and negative reviews.  Responding to positive reviews shows that your company is appreciative of its customers and responding to negative reviews shows that your company cares about resolving issues and providing a positive experience.  Negative reviews that are left ignored will turn potential customers away from your business while responding to negative reviews with poise will reflect positively on your company.
Start a Blog on Your Website
One of the keys to generating more traffic to your website is to regularly provide fresh content for users to consume.  Building a blog on your website and regularly updating it with new articles is a great way to provide fresh, valuable content.
Disaster restoration companies can create blog articles on a number of relevant subjects such as disaster restoration procedures, protecting homes and businesses from disasters, how certain disasters can affect your home, how to prepare for impending storms in your area, and how to respond to property damage caused by a disaster.  Providing quality content on these subjects will help establish your business as an authority in the disaster restoration field and draw more users to your website who do not need restoration services at the moment.  These users will recognize your restoration company as a trusted authority and will likely turn to you if they do need restoration services.
Boost Your Lead Generation with RestorationMaster and Double Your Online Presence
Distinguishing your restoration business from your competitors may seem like a difficult task, but you can separate your business from the rest with the online marketing tactics discussed above.  Adding original photos, videos, and blog articles regularly to your website and social media channels will give potential customers a more intimate look at how your business operates and establish you as an authority in your field.  Generating good reviews will help build trust and make customers more comfortable turning to your business after experiencing damage to their property from a disaster.
If you want to give your lead generation a boost after implementing these tactics, RestorationMaster can help.  We provide disaster restoration lead generation services in which we will provide you with exclusive leads within your territory.
RestorationMasterFinder.com (RMF) is designed to complement a business's website. By having an additional online presence on RMF, you can double the links to your business on Google's first page for the same keyword.
Contact RestorationMaster at (888) 860-7679 to learn more about the lead generation services we provide for restoration contractors.