Storms come in all shapes and sizes and include some combination of wind, rain, hail, and snow. What every storm has in common is that it could be strong enough to cause significant damage to your home or property. In the Jacksonville, FL area, residents should be especially concerned with the possibility of tropical storms and hurricanes because they can each cause severe damage to your home or business. RestorationMaster provides storm damage restoration services to help repair homes and buildings in the Jacksonville, FL area that have been affected by storms. Our technicians will stabilize your home or building and repair the damage caused by the storm.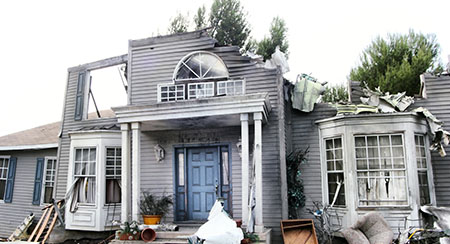 Hurricane/ Tropical Storm
The Jacksonville area can experience heavy rain, flooding, strong winds, and hail, but the most dangerous type of storm is the tropical storm or hurricane. Tropical storms are very similar to hurricanes, they are differentiated by severity and wind strength. Both are a system of thunderstorms that develop over the ocean and when they make landfall, they bring strong winds and heavy rain that can result in flooding and property damage. Even the winds of a tropical storm are strong enough to blow off shingles, ruin siding, and knock over large objects such as utility poles and trees. Residents should be alert for any possibility of a hurricane or tropical storm and do what they can to protect their property from damage.
Storm Damage Cleanup
During certain storms, it may be very difficult to completely prevent damage to your home. Strong winds and flooding can cause severe damage and if your home or building is not stabilized immediately after the storm, the damage will only get worse. Our technicians will immediately secure your home or building to prevent any further damage and begin the restoration. We have the training and equipment to repair exterior damage to your home including the siding, roof, and windows. Our storm damage restoration services include the following steps:
Removal of fallen tree branches, shrubs, and other natural debris
Removal of shingles, siding, glass, and other non-natural debris
Board up services and roof tarping
Complete repair of all damage to your home or building
If your home or business has been severely damaged by a storm in Jacksonville, FL, make sure you take action immediately to prevent the damage from getting worse. The technicians of RestorationMaster can effectively restore heavily damaged homes and buildings and clean up your property to remove debris. You can call us 24 hours a day at (904) 559-3223 to respond to storm damage emergencies.