Florida experiences very humid conditions throughout much of the year. The conditions created by humidity are uncomfortable for us, but ideal for mold growth. There is always a presence of mold spores in the air and they are quick to trigger mold growth when they find an environment with a food source and moisture source. Mold can rather quickly cause considerable property damage and exposure to mold can bring on a range of health issues. ServiceMaster Restoration of First Coast provides mold remediation services in Jacksonville, FL to effectively remove mold from homes and buildings. We use the best cleaning equipment and methods available to uncover and remove all mold growth as well as restore the damaged areas.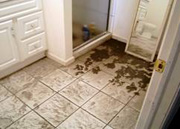 For mold to appear in a home or building, there are a few conditions that must be met. These conditions include a moisture source, an organic food source such as cellulose, and oxygen. This makes it important to take care of any water damage and make sure vulnerable areas such as the basement stay dry. Once mold growth starts, it is very difficult to get rid of. The presence of mold in your home can lead to the following issues:
Unsightly appearance, mold is dark and fuzzy
Musty odors
Irreversible damage to the affected surfaces that it uses as its food source
Allergic reactions or infections from mold exposure
If your home or building is contaminated by mold, the affected materials need to either be decontaminated or replaced. It is best to call a professional for mold remediation that has the proper experience and equipment to do the job. ServiceMaster Restoration of First Coast provides thorough and effective mold remediation services to remove mold from any setting. Our technicians will isolate the contamination to protect the rest of your home and test for hidden mold to ensure complete removal. The affected surfaces are either replaced or restored depending on the severity of the damage.
The best way to prevent mold in your home is to keep the moisture and humidity level under control. If mold still appears in your home, make sure you call our experts at ServiceMaster Restoration of First Coast. We can safely and effectively remove all mold and help you prevent mold growth in the future. You can call us 24 hours a day at (904) 559-3223 for mold remediation services in Jacksonville, FL.
---
Recent Reviews
Review by

Gayle Logan
for
ServiceMaster of San Francisco
Rating

Greg Kershner and his team did a superb job in response to our call regarding the need for mold remediation. He was professional and knowledgeable when he came to speak with us. His team was friendly,courteous, incredibly thorough and hard working when they came to do the job. We highly recommend this business.
---