Few disasters can give homeowners nightmares like a fire. The flames instantly engulf anything in its path and once they are extinguished, the soot and corrosive byproducts left over will spread even more damage. In just 72 hours, these byproducts can leave the affected furnishings and structures in your home permanently damaged. RestorationMaster provides fire and smoke damage restoration for homes and businesses in Jacksonville, FL. We will contain the spread of corrosive materials to limit the damage and repair or restore the damaged materials.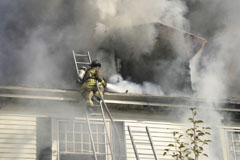 Most homes and buildings are filled with synthetic materials which not only burn up quickly, but also release corrosive byproducts when burned that cause additional damage. This is why it is so important to begin the restoration once the fire is out. These corrosive byproducts, as well as soot from the smoke, continue to settle after the fire is extinguished and the tarnishing and etching they cause can quickly become permanent. Our technicians use advanced equipment and powerful chemical cleaning products to remove tarnishing and etching from aluminum, marble, brass, chrome, tile, porcelain, carpeting, upholstery, and other household surfaces.
Our basic fire damage restoration services consist of the following 5 steps:
Emergency pre-cleaning
Content cleaning
Content pack-out
Wall and ceiling cleaning
Odor removal
Fires often cause many different layers of damage that can complicate the restoration process. RestorationMaster is prepared to provide these special services as part of our fire damage restoration:
Structural Drying
Carpet Drying
Document Drying
Smoke Odor Removal
Emergency Board-ups
Pack-out Cleaning and Storage
Debris Removal
Drywall Replacement
Mold Removal
Smoke Damage Restoration
Smoke is perhaps the most damaging aspect of a fire because it spreads to areas that were unaffected by the flames and the soot can continue to damage surfaces and materials after the fire is out. Soot is not the only byproduct of smoke that can cause damage, smoke also leaves behind an oily residue that can affect your walls, ceilings, and furnishings. If either soot damage or damage from smoke residue is not cleaned or restore quickly enough, the affected materials will become permanently damaged. We can provide effective smoke damage restoration that includes removing soot and residue from affected surfaces and materials with powerful cleaning products.
The other major issue caused by smoke is the odor. Porous building materials absorb smoke odors which makes it extremely difficult to remove from your home. RestorationMaster can remove smoke odors from affected materials and the air space using advanced deodorization equipment and techniques.
A fire in a home or office seriously threatens the safety of those within. When a fire occurs, you must first make sure everyone has been evacuated safely. Once you can confirm the safety of those involved, you must immediately turn your attention to the restoration. The technicians of RestorationMaster are standing by to provide expert fire damage restoration services for homes and businesses in Jacksonville, FL. You can call us 24 hours a day at (904) 559-3223 for emergency fire damage restoration.