The Patch Boys of Kane County
Drywall installation is no easy task—it involves lots of specialized equipment, techniques, and experience in order to execute correctly. As such, when you're looking to install drywall in your Algonquin home, you should call a professional drywall company like the Patch Boys to help.
We have over a decade of experience with drywall repair and installation. Our team is committed to offering excellent service on every job, even small ones most other contractors would overlook.
Professional Drywall Installation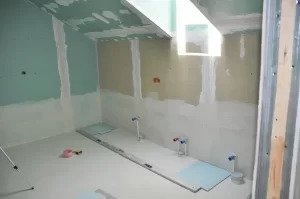 The Patch Boys of Kane County offers experienced drywall installation for Algonquin homeowners with a wide range of needs, from demolition to room splitting or creating additional rooms. Over time, we have developed an effective and efficient process for drywall installation that gives our customers the results they want with less headache.
Our team is equipped with the latest drywall installation equipment and knowledge in the industry. We treat your home exactly as we would treat our own and offer you the accuracy and attention to detail you deserve when you entrust someone with your property. If you're ever less than completely satisfied, we will come back and revise our work until you are. The Patch Boys takes pride in giving each of our customers results they can feel good about.
Call the Patch Boys
When you need drywall installed in your house and want it done right the first time, the Patch Boys of Kane County are the ones to call. We provide top-notch drywall installation services to Algonquin, IL homeowners and give free estimates Monday through Saturday upon request.
---
Related Drywall Installation Services:
---
Recent Reviews
---
Review by

J.H.
Rating

"I had a small drywall project, and needed help finishing the walls. Alvin and his crew did a great job, quickly and professionally completing the job. I highly recommend the Patch Boys."
---
Review by

J.S.
Rating

"The Patch Boys of Kane County I highly recommend them. Alvin and his crew were great. I needed to have some drywall repairs made in my home and garage. The work was excellent and they paid a lot of attention to cleaning up as well. They were fairly priced and affordable."
---
Review by

P.P.
Rating

"Alvin and the crew do great work. Alvin showed up same day I called and gave me a quote. The next day they showed up and stayed 10 hours and got it done. Excellent quality."
---
See All Reviews