Ceilings are an integral part of any home or commercial building. As such, their care and upkeep should be a top priority for any property owner who wants to keep their space in good condition.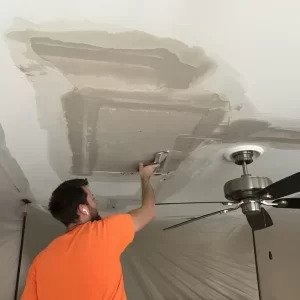 When ceilings are damaged, they only become more difficult and costly to repair as time goes on. That is why it's important to act quickly when you notice signs of damage to your ceilings and call a professional restoration company to help.
The Patch Boys of Kane County is Algonquin's trusted provider of ceiling repair services. We restore damaged ceilings to their original structural integrity with efficiency, accuracy, and care. Our team is also often able to provide quality same-day services upon request.
Don't Ignore Ceiling Damage
A home with a strong, structurally sound ceiling will last much longer than one without. Don't think that certain issues are benign just because they're small. Over time, even small cracks and holes have the potential to grow into something much larger and more dangerous to your property overall, so it is wise to address these problems immediately when they arise. This will preserve your home and save you from spending extra money on more complex repairs.
We consistently train our team so they're up-to-date on the latest and best methods for repairing ceiling damage. Our results will make your ceilings look like new in less time and with less mess than the competition.
Our ceiling repair services can cover the following:
•       Patching holes, cracks, and exposed pipes
•       Water damage restoration
•       Removal and repair of popcorn and textured ceilings
•       Damage from house settlement
•       Match surface texture and prepare for painting
•       Optional painting
Popcorn Ceiling Removal
If your home was built before 1970, you might still have popcorn ceilings in some or all of your rooms. While they were extremely popular back in the day, popcorn ceilings are now viewed by many as unsightly, outdated, and difficult to clean.
At the Patch Boys of Kane County, we offer professional popcorn ceiling removal services for Algonquin homeowners who want to refresh their home and give it a more modern look.
Ceiling Repairs from the Patch Boys
Ceiling repair is what we do. No matter how large or small your project, you can count on the Patch Boys to give it our utmost attention to detail and get the job done right the first time. Contact our team in Algonquin at (630) 755-6686 to get an estimate or schedule service.
---
Recent Reviews
---
Review by

J.H.
Rating

"I had a small drywall project, and needed help finishing the walls. Alvin and his crew did a great job, quickly and professionally completing the job. I highly recommend the Patch Boys."
---
Review by

J.S.
Rating

"The Patch Boys of Kane County I highly recommend them. Alvin and his crew were great. I needed to have some drywall repairs made in my home and garage. The work was excellent and they paid a lot of attention to cleaning up as well. They were fairly priced and affordable."
---
Review by

P.P.
Rating

"Alvin and the crew do great work. Alvin showed up same day I called and gave me a quote. The next day they showed up and stayed 10 hours and got it done. Excellent quality."
---
See All Reviews