The Patch Boys of Kane County
Ceilings are structural elements in homes and buildings that need to be kept in good repair.  Any damage to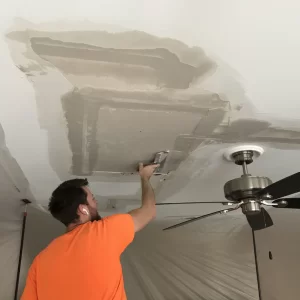 your ceiling should be addressed right away before it becomes more extensive and costly to fix. If you ever come across cracks, holes, or water stains in your ceiling, call the team at the Patch Boys immediately for effective repair services.
The Patch Boys of Kane County is a leader in providing ceiling repair services throughout the Batavia area. We can quickly and efficiently fix any damage to your ceilings, restoring their structural integrity and original appearance. Our skilled professionals provide fast, same-day service and stand behind our quality results.
Don't Ignore Ceiling Damage
A sound ceiling structure is important to ensure your home's longevity. Even minor cracks or water stains can indicate more serious problems that may develop over time, so it is critical to address and never ignore damage to your ceiling when you find it. Taking action immediately is the best way to prevent further damage and save money on repairs.
At the Patch Boys of Kane County, our experienced team uses the best techniques in the industry to repair ceiling plaster. We also work on water damage to your ceiling caused by leaks or burst pipes.  We provide results that look like new and we perform a thorough cleanup when the job is complete.
Our ceiling repair services can cover the following:
      Patching holes, cracks, and exposed pipes
      Water damage restoration
      Removal and repair of popcorn and textured ceilings
      Damage from house settlement
      Match surface texture and prepare for painting
      Optional painting
Popcorn Ceiling Removal
Popcorn ceilings were a once popular but short-lived home decorating trend. They are incredibly difficult to clean and do not last as long as other ceiling textures. If you're itching to get rid of the popcorn ceilings in your home, our team of experts at the Patch Boys of Kane County to remove the popcorn texture and leave your ceilings with a smooth, modern finish.
Ceiling Repairs from the Patch Boys
We specialize in ceiling repair. Whether you have a minor crack or a serious problem, we'll work quickly to restore your ceiling to its original condition, using only the finest materials and techniques.
You can reach us at (630) 755-6686 for a free estimate for our professional ceiling repair in Batavia, IL.
---
Related Ceiling Repair Services:
---
Recent Reviews
---
Review by

J.H.
Rating

"I had a small drywall project, and needed help finishing the walls. Alvin and his crew did a great job, quickly and professionally completing the job. I highly recommend the Patch Boys."
---
Review by

J.S.
Rating

"The Patch Boys of Kane County I highly recommend them. Alvin and his crew were great. I needed to have some drywall repairs made in my home and garage. The work was excellent and they paid a lot of attention to cleaning up as well. They were fairly priced and affordable."
---
Review by

P.P.
Rating

"Alvin and the crew do great work. Alvin showed up same day I called and gave me a quote. The next day they showed up and stayed 10 hours and got it done. Excellent quality."
---
See All Reviews