Patch Boys of Kane County
Popcorn ceilings were all the rage in the 50s and 60s. Great at hiding imperfections and absorbing sound, popcorn ceilings were widely used in the construction of homes for decades. However, that all changed in 1970 when the EPA recognized popcorn ceilings as being potentially carcinogenic and banned their use in new construction.
If you're looking to remove popcorn ceilings from your Algonquin, IL home, the Patch Boys of Kane County can help. Our team is well-versed in this procedure and can help you obtain the modern look of your dreams without breaking the bank.
Why Remove Popcorn Ceilings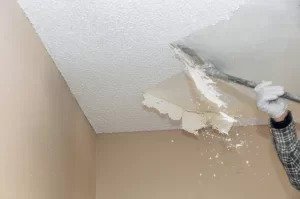 The Clean Air Act of 1970, which banned the use of asbestos in building materials, was a major stimulus for the fall in the popularity of popcorn ceilings.
In addition to meeting modern health and safety standards, getting rid of popcorn ceilings can also provide a noticeable aesthetic upgrade to your home. Modern ceilings have a smooth finish to match never decor, so removing your popcorn ceilings will help your home keep up with the times. Smooth ceilings are also significantly easier to clean and maintain than the bumpy surface of popcorn ceilings.
Expert Popcorn Ceiling Removal
The Patch Boys of Kane County provide expert popcorn ceiling removal services to our local Algonquin, IL community and beyond. We have developed and refined a process over more than a decade that results in flawless outcomes in the shortest amount of time. When we're finished, your home will look better than ever and greater value to potential buyers.
Our team also stays on the lookout for other imperfections like holes, cracks, and nail pops when we're performing your popcorn ceiling removal. We will bring any issues we notice to your attention and work diligently to correct them.
Why Choose Patch Boys
Algonquin, IL homeowners trust the Patch Boys to make their homes popcorn ceiling-free. With over 15 years of experience, Patch Boys can help you get rid of your popcorn ceilings with minimal hassle and fuss. We offer several types of ceiling restoration services for any home size, including room-by-room installations. You can depend on our trained professionals to complete work on schedule, giving you a beautiful finished product that lasts long into the future.
For more information about our services or to schedule a free estimate, contact our team today at (630) 755-6686.
---
Related Popcorn Ceiling Removal Services:
---
Recent Reviews
---
Review by

J.H.
Rating

"I had a small drywall project, and needed help finishing the walls. Alvin and his crew did a great job, quickly and professionally completing the job. I highly recommend the Patch Boys."
---
Review by

J.S.
Rating

"The Patch Boys of Kane County I highly recommend them. Alvin and his crew were great. I needed to have some drywall repairs made in my home and garage. The work was excellent and they paid a lot of attention to cleaning up as well. They were fairly priced and affordable."
---
Review by

P.P.
Rating

"Alvin and the crew do great work. Alvin showed up same day I called and gave me a quote. The next day they showed up and stayed 10 hours and got it done. Excellent quality."
---
See All Reviews