The Patch Boys of Kane County
Are you ready to add an extra room, finish your basement or attic, or start a new remodeling project in your home?  If so, these projects will require drywall removal and installation.  It is best to work with a professional that you can trust to properly install the new drywall and remove the previous drywall if necessary.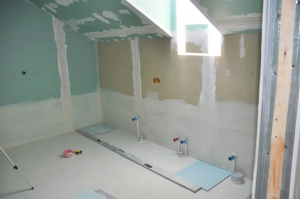 At the Patch Boys of Kane County, we provide drywall installation as one of our drywall service specialties in Oswego, IL.  Our trained technicians can handle any drywall installation job including splitting a single room and installing walls for new rooms.  We proudly take small drywall installation jobs for homes that larger contractors won't take to help homeowners with their remodeling projects.
Professional Drywall Installation
Our professionals at the Patch Boys of Kane County provide premier residential drywall installation services for all types of home remodeling projects.  We can handle any installation job from partial to full drywall demolition and installation.  With our perfected drywall installation process, we can install walls in basements, bathrooms, kitchens, closets, laundry rooms, and more.
We use the best quality products and materials to ensure excellent drywall installation services.  Each of our technicians is trained to handle proper drywall installation techniques for performance and soundproofing as well as drywall repair and painting preparation.  We will complete the job to your exact specifications and ensure a seamless installation.  You can count on our experts for any type of drywall installation job from large room additions to more delicate installations.  After completing the installation process, we will thoroughly clean up the area.
Call the Patch Boys
When you need expert drywall installation in your home, call the professionals of the Patch Boys of Kane County.  We are committed to providing flawless results and will work quickly and efficiently to get the job done right.  Give us a call at (630) 755-6686 for a free estimate for our drywall repair services in Oswego, IL.
---
Related Drywall Installation Services:
---
Recent Reviews
---
Review by

J.H.
Rating

"I had a small drywall project, and needed help finishing the walls. Alvin and his crew did a great job, quickly and professionally completing the job. I highly recommend the Patch Boys."
---
Review by

J.S.
Rating

"The Patch Boys of Kane County I highly recommend them. Alvin and his crew were great. I needed to have some drywall repairs made in my home and garage. The work was excellent and they paid a lot of attention to cleaning up as well. They were fairly priced and affordable."
---
Review by

P.P.
Rating

"Alvin and the crew do great work. Alvin showed up same day I called and gave me a quote. The next day they showed up and stayed 10 hours and got it done. Excellent quality."
---
See All Reviews