The Patch Boys of Kane County
Plaster is commonly used for walls and ceilings in homes and buildings because it is a durable material and quite strong.  However, environmental factors like humidity and the change in seasons in addition to general wear and tear can cause it to crack and fall off.  If you have cracks or holes in your plaster walls or ceiling, you need to call our professionals to restore the damage.
The Patch Boys of Kane County provides plaster repair services to help homes and businesses in Oswego, IL.  Whether you need small repairs or total plaster restoration, you can count on our professionals to provide high quality services using our perfected repair process.  We offer free estimates for this service as well as fast, same day services.
Expert Plaster Repair
Our professionals at the Patch Boys of Kane County are ready to repair any level of damage to your plaster walls and ceilings including cracks, holes, and large-scale damage.  No matter the condition of your walls and ceilings, you can expect seamless repairs and plastering.  We use only the highest quality tools and resources to repair cracks and holes and restore areas with fallen plaster.  Our goal is to restore and preserve your plaster walls and ceilings in addition to repairing the damage.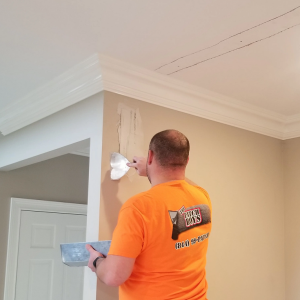 Our technicians have the experience, skill, and tools, to address any problems with your plaster and restore these surfaces to their former glory.  We can provide our plaster repair and restoration services in residential and commercial settings.
Our plaster repair services cover the following:
Cracked and brittle plaster
Wall resurfacing
Holes in the wall
Damage due to house settlement
Plaster restoration
Total room renovation
Match surface texture and prepare for painting
Optional painting
Why Choose Patch Boys?
When it comes to drywall and ceiling repair, most contractors prefer to work with businesses for bigger jobs and do not usually take smaller residential jobs.  This causes homeowners to rely on handymen who may not have the tools or expertise to get the job done right.
At the Patch Boys of Kane County, we work with homes and businesses to take on smaller jobs with the expertise, tools, and resources to get the job done right.  Our fast and effective plaster repair process allows us to handle any size plaster repair job to restore the original beauty of these surfaces.  We can finish plaster repairs in one day and our crews will clean up the area after the job is completed.
Damage to the plaster on your walls and ceilings will continue to get worse if ignored.  Make sure you call the professionals of the Patch Boys of Kane County to repair and restore the damage to your plaster surfaces.  You can call us at (630) 755-6686 for a free estimate for our plaster repair services in Oswego, IL.
---
Recent Reviews
---
Review by

J.H.
Rating

"I had a small drywall project, and needed help finishing the walls. Alvin and his crew did a great job, quickly and professionally completing the job. I highly recommend the Patch Boys."
---
Review by

J.S.
Rating

"The Patch Boys of Kane County I highly recommend them. Alvin and his crew were great. I needed to have some drywall repairs made in my home and garage. The work was excellent and they paid a lot of attention to cleaning up as well. They were fairly priced and affordable."
---
Review by

P.P.
Rating

"Alvin and the crew do great work. Alvin showed up same day I called and gave me a quote. The next day they showed up and stayed 10 hours and got it done. Excellent quality."
---
See All Reviews