Water damage can happen very quickly and easily in a home or building as rain, floods, plumbing leaks, burst pipes, and overflows are all potential sources of excess water. Regardless of the scope of the initial damage, water damage requires immediate action because it can spread through absorbent building materials such as drywall, insulation, and wood to cause structural damage and increase the risk of mold growth. RestorationMaster provides water damage restoration services to remove excess water from homes and businesses in Fresno, CA and dry out furnishings and structural elements that have been affected. Our technicians respond within 2 hours of your call to stop the spread of the damage and we will make sure you understand our restoration process before we begin.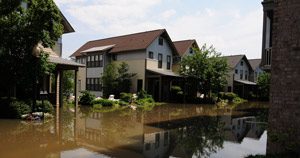 As water or moisture gets absorbed into the building materials of your home, it can cause significant structural damage beyond the flooring and walls while also increasing the chance of mold or mildew growth developing. The technicians of RestorationMaster are ready to respond to water damage situations 24 hours a day to stop the spread of the excess water which will reduce the amount of total damage as well as help prevent mold growth. We start by removing water and moisture from the structural elements, furnishings, and air spaces of your home with our commercial grade dehumidifiers. We then administer antimicrobial applications that will significantly reduce the risk of mold or mildew growth.
As we carry out the water damage restoration process, we document each step according to insurance industry standards and we also work directly with local insurance providers which helps us simplify the claims process. You should not hesitate to call RestorationMaster as soon as you discover water damage, and following these tips as you await our technicians can help you limit some of the damage:
What to Do After Water Damage
Be aware of slip hazards
Try to fix the water or moisture source
Put small furniture and valuable or fragile items in a dry, secure location
Put foil under all furniture legs to avoid stains on the carpet
Move items that are most susceptible to water damage including fabrics, shoes, books, and others to a safe, dry location
Contact a doctor if anyone in your home is showing symptoms of related health issues
What Not to Do After Water Damage
Do not use personal hygiene products possibly affected by the damage
Do not use a vacuum cleaner to try and remove standing water
Do not run the heating or air conditioning
Do not change the temperature in your home
Do not enter rooms with standing water
Try to avoid walking on wet surfaces as much as possible
If your home or business in Fresno, CA is affected by water damage, you should immediately contact RestorationMaster for professional water damage restoration. Our 50 years of experience combined with the most advanced cleaning equipment and methods of the industry allow us to provide quality water damage restoration regardless of the scope of the damage. Our phone lines are open 24 hours a day at 888-915-8868 to respond quickly to your call.