(904) 559-3223
There are a lot of characteristics of different storms that make them distinct from one another; however, one thing all storms have in common is their potential to severely damage property. For residents of the Fleming Island, FL area, they need to be worried about severe storms like tropical storms and hurricanes, and the serious damage that they can cause to your home or business. RestorationMaster provides residential and commercial properties in Fleming Island, FL with storm damage restoration services. Our technicians make repairs to affected homes and buildings by stabilizing the structure and repairing damage.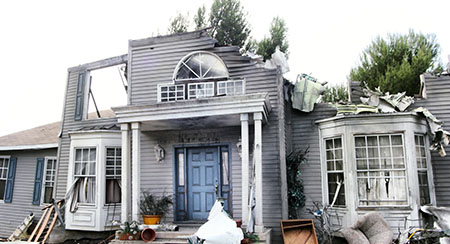 Hurricane/Tropical Storm
Heavy rain, strong winds, flooding, and hail are common occurrences in the Fleming Island area. However, tropical storms and hurricanes are the most dangerous types of storms. Although the two are very similar, their severity and wind strength differentiate them. The two start out initially as a system of thunderstorms that develop over the ocean. When the storms reach land, heavy rain and strong winds hit, potentially resulting in flooding and property damage. Winds from tropical storms have enough power to blow shingles off your home, destroy the siding of a building, and knock down large objects. As such, Fleming Island residents need to remain aware of potential tropical storms or hurricanes so that they can protect their home or business.
Storm Damage Cleanup
Some storms have flooding and such strong winds that damage is difficult to avoid. Damage caused by a storm can worsen if your property isn't properly stabilized right away. We will get to work on restoring your property immediately, stabilizing the structure to prevent more damage. Our technicians are properly trained and equipped to perform repairs on exterior damage, which includes roofing, windows, and siding. The following tasks are included in our storm damage restoration services:
Removing natural debris: fallen tree branches, shrubs, and more
Removing non-natural debris: glass, siding, shingles, and more
Performing board-up services and roof tarping
Completely repairing your damaged home or building
If you have a residential or commercial property in Fleming Island, FL that has suffered severe damaged from a storm, take immediate action so that the damage doesn't worsen. RestorationMaster's technicians will work to restore and clean up your property. Call us 24/7 at (904) 559-3223 for our storm damage restoration services.