Fleming Island, FL residents are familiar with the damaging effects water can have on homes and businesses because of the commonality of tropical storms and humid conditions in the state. Many building materials, such as drywall and wood, are porous, meaning they easily absorb water which can cause serious structural damage and result in the perfect conditions for mold growth. RestorationMaster restores and cleans up homes and other buildings in Fleming Island, FL that have been damaged by water through our water damage restoration services. With our services, our technicians contain and eliminate the water and restore the damage it has caused. We will also thoroughly dry out the structure using advanced equipment.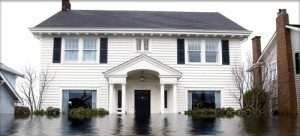 Excess water can be extremely damaging to a home or building because water can be absorbed by carpeting, flooring, insulation, walls, and woodwork. When the water becomes absorbed by these materials, the damage easily spreads, making the materials weaker which leaves the structure vulnerable to severe damage. To limit the damage, you need to act right away. Our technicians contain the water and then remove it using state-of-the-art equipment for water extraction. Following that, we make sure the property has been thoroughly dried in order to stop mold growth. The following steps are included in our water damage restoration services:
Primary damage inspection and evaluation
Extraction of water and moisture
Application of anti-microbials
Various types of drying: air movement, dehumidifying, monitoring
Flood Damage Restoration
Heavy rain and severe storms make the Fleming Island, FL area prone to flooding. When there's standing flood water in a property, it can result in severe damage because the flooring, walls, woodwork, and other porous materials absorb the water very quickly. Such building materials become structurally damaged and are at risk to develop mold. In addition, flood water is unsanitary because of the sewage and microorganisms it might contain, which are known to negatively impact your health.
No matter how the water damage occurred or what it was sourced by, be sure to call RestorationMaster for our flood damage restoration services. Flood water must be tended to immediately because more time allows it to spread further and create more damage. Our technicians can eliminate standing water to stop it from spreading. Furthermore, to prevent mold growth and the health problems it presents, we will guarantee the damaged area is thoroughly dried and disinfected.
Water Damage Restoration Process
We, at RestorationMaster, are dedicated to conducting quality water damage restoration services. With our services, we restore damaged properties to their former condition. Our technicians take the following steps to guarantee our work is done correctly:
Inspect the area to ensure its safety
Find and repair the water or moisture source
Extract water using equipment mounted on our truck
Prevent damage from spreading by isolating the affected area
Thoroughly dry all wet materials by using structural drying equipment
Check for any mold growth and remove it if any is found
Repair or restore damaged areas and materials to their former condition
You should never ignore water damage. You must take immediate action if you find water damage in your home or business in Fleming Island, FL or the damage will spread, worsen, and lead to mold growth. You can reach us 24 hours a day at (904) 559-3223 for our water damage restoration services.