Not many disasters can scare property owners like fires do. This is because of how a fire's flames immediately consume anything in their way and how the soot and corrosive byproducts left behind spread and create more damage. Within 72 hours, soot and corrosive byproducts can cause permanent damage to anything they have affected. RestorationMaster provides residential and commercial properties in Fleming Island, FL with fire and smoke damage restoration services. Our technicians work to contain corrosive materials and limit the damage they can cause, as well as fix any damaged materials.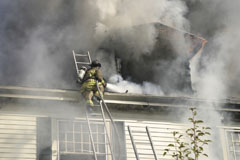 A lot of properties contain synthetic materials that burn quickly and, when burned, release corrosive byproducts that result in additional damage. Because of this, it is essential that restoration is done right after the fire has been extinguished. Corrosive byproducts and soot keep settling in a property even after a fire has been put out. Additionally, they cause etching and tarnishing that can become permanent. By using specialized equipment and powerful chemical cleaning products, our technicians remove etching and tarnishing from upholstery, carpeting, chrome, aluminum, tile, brass, marble, porcelain, and other household surfaces.
The following steps are included in our basic fire damage restoration services:
Emergency pre-cleaning
Content cleaning and pack-out
Ceiling and wall cleaning
Odor removal
Fires usually involve various layers of damage that may make the restoration process difficult. As part of our fire damage restoration services, RestorationMaster offers the following special services:
Document drying
Emergency board-ups
Carpet drying
Structural drying
Drywall replacement
Pack-out cleaning and storage
Smoke odor removal
Mold removal
Debris removal
Smoke Damage Restoration
Smoke is, for various reasons, potentially the most damaging part of a fire. This is because smoke not only spreads to areas unaffected by flames, but because its soot can cause damage even after the fire has been extinguished. In addition, smoke causes damage by leaving behind an oily residue that affects ceilings, walls, and furnishings. If smoke residue and soot damage aren't addressed in a quick enough manner, then any affected materials risk permanent damage. With our smoke damage restoration services, we can remove soot and residue by using powerful cleaning products.
Another issue smoke presents is odor. The smoke odor is absorbed by porous building materials, making it difficult to remove such smells. To eliminate such odors, RestorationMaster uses advanced deodorization equipment and techniques.
Fires in a property threaten the safety of anyone within the space. Knowing this, when a fire is present, immediately evacuate the property, and call your local fire department. Once the fire has been extinguished, seek professional restoration right away. At RestorationMaster, we are available to provide our expert fire damage restoration services on a 24/7 basis, serving businesses and homes in Fleming Island, FL. To request our service, give us a call at (904) 559-3223.