In Florida, there are humid conditions for most of the year which can be uncomfortable for people. However, such conditions are perfect for mold growth. Mold spores are always present in the air, but mold growth is triggered when the spores discover an environment that has both a food and moisture source. In addition, mold can cause extensive property damage and even numerous health problems. RestorationMaster can thoroughly remove mold from residential and commercial properties in Fleming Island, FL with our mold remediation services. In our work, we find and remove all cases of mold using only the best cleaning equipment and techniques. Our technicians will also restore all areas affected by mold growth.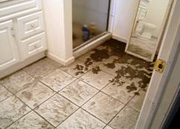 For mold to grow, the environment must have an organic food source, like oxygen and cellulose, and a moisture source. Knowing this, it is vital that water damage is taken care of and that areas prone to such conditions remain dry. When mold starts to develop, it can be a difficult task to eliminate it. The following issues can arise as a result of mold in your property:
Musty odors
Unattractive appearance because of mold's dark and fuzzy nature
Infections or allergic reactions caused by mold exposure
Permanently damaged materials that have been used as a food source
If you discover that your property has been contaminated by mold, damaged materials must be cleaned if not replaced. The best option to take is to contact professionals to conduct mold remediation services; professionals have the knowledge, experience, and equipment to get the job done. RestorationMaster offers mold remediation services that include thorough mold removal. Our technicians contain the mold to limit its ability to spread and cause more damage. Additionally, we perform tests to find any hidden mold. Based on the amount of damage, we will either replace or restore what has been damaged.
To prevent mold growth in your property, the best thing to do is to maintain control of the moisture and humidity levels. If mold still shows up in your home, contact RestorationMaster's experts. In addition to eliminating all cases of mold, we will work to prevent future mold growth. For our mold remediation services in Fleming Island, FL, call us at (904) 559-3223, we are available on a 24/7 basis.