ServiceMaster TEAM
(215) 399-4866
If your home does not have the clean appearance that you want, even after you finish cleaning, the problem could be your carpet.  The carpeting is often overlooked when it comes to cleaning and the dirt, dust, and other debris that gathers in the fibers can diminish the look of your carpet which will affect the appearance of your home.  ServiceMaster TEAM provides carpet cleaning services in Buckingham and Doylestown, PA to thoroughly clean and remove embedded debris from all carpeting types.  We use advanced cleaning methods and equipment that will restore the look of your carpet and help prolong its life.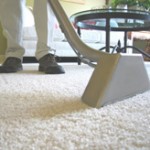 Traditional carpet cleaning methods and rental equipment involve the use of shampoos and chemicals that dry slowly and may even leave a residue behind.  Our cleaning methods include hot water extraction which uses a solution of hot water and mild detergents that are safe for your carpet and have a fast drying time.  We use a specialized cleaning wand that deposits the solution directly into the carpet fibers to loosen the dirt and debris.  The same wand immediately extracts the water back out along with the loosened soil and deposits the solution into a truck-mounted collecting tank through a hose.  If there are stains on your carpet, we can treat them with our specialized stain removers.
ServiceMaster complete carpet cleaning services includes:
Pre-Treatment: We loosen embedded dirt, debris, and stains by pre-treating your carpet.
Hot Water Extraction: The hot water extraction method is used to remove all embedded debris from the carpet fibers and restore the carpet to its original look.
Long Term Protection: Our fabric and stain solution helps keep your carpet protected.
Convenience: The carpet cleaning is done in just one visit and it takes less than 24 hours to dry.
Free Estimate: We can provide you with a free estimate for our carpet cleaning services.
Guarantee: We guarantee our results and we will do a final walk through with you to ensure that you are satisfied.
Call Us for Carpet Cleaning in Doylestown & Buckingham, PA
It is recommended to have your carpet professionally cleaned at least once per year to help keep it looking its best and prevent discoloration or deterioration.  If the carpeting in your home in Buckingham or Doylestown, PA could benefit from professional cleaning, contact ServiceMaster TEAM.  You can reach us anytime at (215) 399-4866 for a free estimate.
---
Related Carpet Cleaning Services
Carpet Cleaning in Willow Grove and Southampton, PA
Carpet Cleaning in Levittown, PA
Carpet Cleaning in Newtown and Yardley, PA