(505) 814-1411
Hoarding affects a significant amount of people in the United States but a better understanding of hoarding has led to better services for those who are affected. Hoarding is a disorder that stems from anxiety which causes those affected to develop an inability to throw away or part with anything. This results in a hoard of items in a home that can grow to create very dangerous and unsanitary living conditions. ServiceMaster of Albuquerque and West Mesa provides hoarding cleaning services in Albuquerque and Bernalillo, NM to help those that struggle with hoarding clean up and restore their homes. We have the experience and equipment to handle any case of hoarding and we take a respectful approach and involve the affected individual in the process.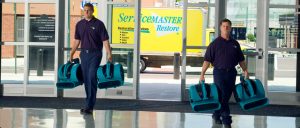 The behaviors associated with hoarding disorder develop gradually as the individual starts to collect more items regardless of their use or actual value. As the hoard of items grows, it may restrict access to areas in the home, create a major fire hazard, or harbor the growth of mold and bacteria which could affect the health of hoarders and their families. Those that struggle with hoarding do not reach out for help themselves because they are usually embarrassed by the condition of their homes. A close friend or family member of the individual must step in and help the individual begin the cleaning process.
Our technicians at ServiceMaster of Albuquerque and West Mesa are trained and equipped to clean up even the most extreme cases of hoarding and we make sure to treat the individual with respect and involve them in the process. We can remove unwanted hoarded items and debris as well as clean and sanitize the home, and we will help make decisions on what items should be kept or thrown away while leaving the ultimate decision to the individual. If we encounter biohazard materials including bacteria, mold, or dead animals, we can safely clean up and remove these materials.
Our hoarding cleaning services are done in compliance with the rules and regulations of the EPA, OSHA, and the Department of Transportation. The hoarding cleaning process consists of the following steps:
Decontamination: The home will be decontaminated after the unwanted items are removed to restore sanitary living conditions.
Odor Removal: We use powerful deodorizers to remove unpleasant odors.
Disposal: We will throw away, recycle, or donate unwanted items and we can also transport biohazard materials to a licensed facility for disposal.
Hoarding can result in dangerous consequences for those affected as well as their families which makes it important to help those that struggle with hoarding understand the importance of cleaning their homes. ServiceMaster of Albuquerque and West Mesa can help those who struggle with hoarding in Albuquerque and Bernalillo, NM clean up their homes and we make sure the individual has control over the process. You can reach us 24 hours a day at (505) 814-1411 to learn more about our hoarding cleaning services.
---
Recent Reviews
Review by

Grady Ramsey
for
Disaster Restoration
Rating

"This is a great company! We had a bad water break in our house while we were out for hours. Called our insurance co Farmers. They sent Service Masters out to clean the water and the mess up. Justin Mason and Shawn Beck showed up, Totally great people and hard workers. Smart and professional people and company! Every move they made was for us and they asked if this is good enough or what else can we do for you. Fantastic!!!!"
---
Review by

Rudy Rios.
for
Disaster Restoration
Rating

"The professionals at Service Master of ABQ west Mesa are probably one of the few companies around today that are "True Professionals".Stellar communication, honest staff and employees, and always on time delivery.Not only was Jesse, the manager, always courteous and well spoken, he made every attempt to satisfy our needs on a mold remediation of a commercial job I am doing.I can recommend this Service Master to do more than you would ever expect."