It always feels good to finally have your home or office restored after experiencing damage from a natural disaster but the presence of a foul odor will continue to make your home unpleasant. Many disasters such as flooding, fires, and mold growth can leave a lingering odor in your home that is difficult to get rid of because it absorbs in air spaces, furnishings, and structural elements. ServiceMaster of Albuquerque and West Mesa provides odor removal services in Albuquerque and Bernalillo, NM to remove foul odors from your home or business.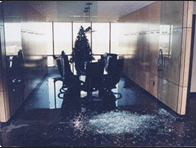 Our technicians have the training to remove many types of odors from your home using advanced equipment and methods such as thermal fogging, ozone technology, hydroxyl technology, and Nano carbon technology. These cleaning methods are effective for removing the following types of odors:
Fire and smoke odor
Dead animal odor
Pet odors
Mold odors
Undetected death odors
We preform our odor removal services in several steps to ensure that the odor is completely removed and will not return once the cleaning is done. These services consist of the following steps:
Treatment or removal of the odor source
Treatment of affected furnishings and structural elements
Treatment of air space
Air washing
Sealing of porous surfaces
Complete documentation of the deodorization process
Our odor removal services are especially effective for removing the following types of odors that typically occur as the result of a disaster:
Fire and Smoke Odor: We can effectively remove residual odors left after a fire.
Water Damage Odor: Water damage sometimes results in mold or mildew which can produce a musty odor. We can remove mold odors as well as odors from sewage backups.
Biological Based Odors: We can effectively remove odors from biological substances including bodily fluids and dead animals.
A foul, lingering odor can be nearly impossible to live with and extremely difficult to remove on your own. If there is a strong odor in your home or business in Albuquerque or Bernalillo, NM, contact ServiceMaster of Albuquerque and West Mesa for our odor removal services. We can remove all types of lingering odors with our advanced equipment and technology. You can call us 24 hours a day at (505) 814-1411 for more about our odor removal services.
---
Recent Reviews
Review by

Grady Ramsey
for
Disaster Restoration
Rating

"This is a great company! We had a bad water break in our house while we were out for hours. Called our insurance co Farmers. They sent Service Masters out to clean the water and the mess up. Justin Mason and Shawn Beck showed up, Totally great people and hard workers. Smart and professional people and company! Every move they made was for us and they asked if this is good enough or what else can we do for you. Fantastic!!!!"
---
Review by

Rudy Rios.
for
Disaster Restoration
Rating

"The professionals at Service Master of ABQ west Mesa are probably one of the few companies around today that are "True Professionals".Stellar communication, honest staff and employees, and always on time delivery.Not only was Jesse, the manager, always courteous and well spoken, he made every attempt to satisfy our needs on a mold remediation of a commercial job I am doing.I can recommend this Service Master to do more than you would ever expect."