Fires almost always happen without warning and they can spread very quickly, making it extremely important to make sure everyone is evacuated from the home or building.  After the fire is out, the restoration must begin immediately because soot and other byproducts will continue to spread and cause corrosion, etching, and staining that can become permanent.  RestorationMaster provides fire and smoke damage restoration services to help clean up and restore homes and businesses in Waterbury, CT that have been affected by a fire.  We can effectively clean up and repair damage caused by fire and smoke to restore your home or building to its pre-fire condition.
Fire Damage Restoration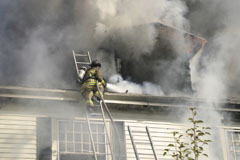 It is important to remember that just because a fire is out, that does not mean the damage has been done.  Soot from the smoke as well as corrosive byproducts and chemical emissions from burnt synthetic materials will continue to spread to areas that were not affected by the fire and the damage they cause will become permanent without quick enough restoration.  Our technicians arrive quickly on the scene to stop the spread of the damage and treat the affected surfaces before they are permanently damaged.
As part of our fire damage restoration services, we also provide tarping to help secure your home if it has sustained significant structural damage as well as content cleaning and pack-out services for your damaged personal items.  We can effectively clean, restore, and deodorize all types of personal content and keep your items stored at our secure, climate controlled facility while your home is being restored.
Our fire damage restoration services include the following steps:
Pre-cleaning of affected areas
Tarping and stabilization
Content cleaning and pack-out
Restoration of damaged surfaces
Deodorization
Smoke Damage Restoration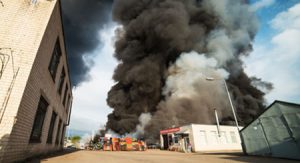 Sometimes the majority of the damage in a fire is actually caused by the smoke.  Smoke can become absorbed into porous building materials such as drywall and paint, and materials that are burned in the fire produce a smoke residue that can be oily or corrosive.  Soot from the smoke can also spread throughout a home or building and cause tarnishing and etching to the surfaces it affects.  RestorationMaster has the right cleaning equipment to completely remove soot and smoke damage from all household surfaces.  We can also remove any lingering odors from the smoke or fire with effective deodorization.
As soon as the fire is put out in your home or building in Waterbury, CT, do not hesitate to call RestorationMaster to begin the restoration.  We will work quickly to remove soot and smoke damage before it becomes permanent and repair the damage caused by the fire to restore your home or building to its original condition.  You can reach us 24 hours a day at (203) 721-6646 for emergency fire and smoke damage restoration services in Waterbury, CT and the surrounding communities.