Fires can be very dangerous disasters, and the fact that they often occur without any real warning makes them even more devastating. The flames can sweep through your home, quickly damaging the structural elements and furnishings of the building. And even after the flames are extinguished, soot and corrosive byproducts can continue to cause damage. NuEra Restoration and Remodeling provides professional fire damage restoration and repair services in Streamwood, IL.  We can help restore homes and buildings that have been damaged by a fire.
Our technicians are highly trained and experienced with fire and smoke damage of all types, so you can trust that your restoration service will be handled properly when you hire us. From our industry-leading restoration techniques to professional-grade equipment, we have the tools and resources to get the job done right. Hire the technicians of NuEra Restoration and Remodeling when you need help with fire damage.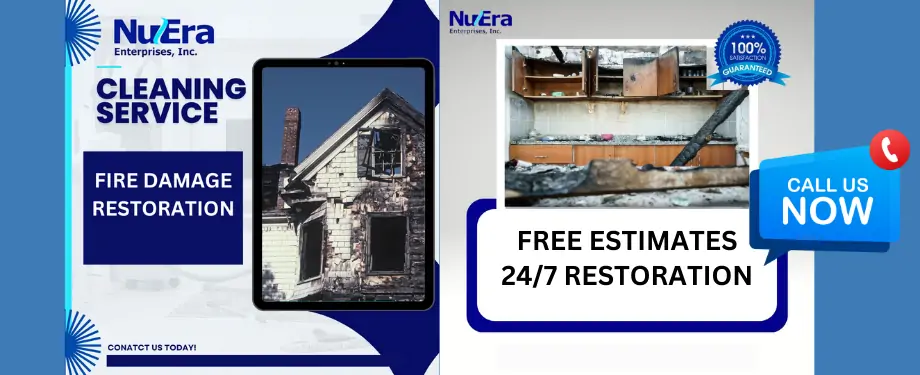 Reliable Fire Damage Restoration and Repair Services in Streamwood, IL
The corrosive byproducts that result from the burning of synthetic materials can cause further damage after the fire is out, and the soot can also continue to spread damage by settling and causing permanent etching. Without immediate restoration services, this damage can easily become permanent. Our technicians have the proper training to clean up and repair damage caused by fire, and we use the most advanced cleaning equipment and products in the industry. The cleaning products we use can effectively remove soot from at-risk household surfaces including brass, aluminum, chrome, tile, marble, carpeting, and upholstery. The fire and smoke damage restoration services we provide include these 5 steps:
Emergency pre-cleaning
Content cleaning
Content pack-out
Wall and ceiling cleaning
Fire truck NuEra Restoration and Remodeling
For more information on fire damage restoration, watch RestorationMaster video
Commercial Fire Damage Restoration in Streamwood, IL
While fires are disruptive to the daily life of a home, they can be even more disruptive to daily business activities if they occur in a commercial building. The technicians of NuEra Restoration and Remodeling understand the need to get your business back to normal as soon as possible, and we provide fire damage restoration services for offices and commercial buildings. We will work quickly to repair or restore the damage caused by the fire so that you can resume your normal business activities.
In your time of need, you need a partner you can trust who will provide you with high-quality fire restoration services. Our technicians understand the stress and urgency that comes with fire damage, and we are proud to help our business clients return to normal at all stages of fire restoration.
What to Do After a Fire
Call NuEra Restoration and Remodeling immediately for our fire damage restoration and repair services before the damage becomes permanent.
If the temperature is above 60 degrees, you can open up the doors and windows to air out your home.
You can clean Formica, aluminum, porcelain, and chrome surfaces to prevent permanent etching.
Change the air filter on your furnace if it uses forced hot air.
You can filter soot from the air of your home by taping damp cheesecloths over the return and supply registers.
If the power is turned off, clean out your refrigerator and leave the door open to dry.
Save clothing with smoke damage with our restoration cleaning services.
What NOT to Do in Case of Fire
Do not touch any damaged surfaces with your hand because hand oils can penetrate upholstery, walls, and woodwork.
Do not try to wash the soot from the walls because you can make the residue worse with improper cleaning methods.
Do not try to clean your carpet or upholstery.
Do not use electrical appliances that have not been inspected and approved for use.
Do not use a ceiling fixture that is on a wet ceiling.
Contact Us for Fire Damage Restoration in Streamwood, IL
Fires cause a significant amount of damage, and if the right actions are not taken in the immediate aftermath of a fire, the fire damage can spread and become irreversible.  NuEra Restoration and Remodeling provides fire damage restoration services for homes and businesses in Streamwood, IL to repair and restore the damage.  You can call us 24 hours a day at (630) 656-9915 for an emergency response.
---
Related Fire Damage Restoration Services:
Commercial and Residential Fire  Damage Repair and Restoration  in Downers Grove, IL
Fire and Smoke Damage Restoration  and Repair in Mt. Prospect, IL
Fire  Damage Cleanup, Restoration, and Repair Certified Technicians  in Schaumburg, IL
Fire Damage House Cleaned by Professionals in Des Plaines, IL
Smoke and Fire Damage Restoration in Elk Grove Village, IL
Fire Damage Cleanup and Cleaning in Hoffman Estates, IL
---
Fire & Smoke Damage Restoration Frequently Asked Questions
What steps are involved in removing smoke odor from a home or business?
A fire damage restoration professional like NuEra Restoration and Remodeling will take care of smoke removal and smoke damage restoration. If you decide to take the smoke mitigation issue into your own hands, here are the main steps to follow:
1. Let It Breathe: Allow fresh air to circulate by opening windows and doors to ventilate and reduce lingering smoke odors.
2. Absorb the Smoke: Use odor-absorbing materials like baking soda, activated charcoal, or commercial odor absorbers to help eliminate smoke odors.
3. Repaint Ceilings & Walls: Apply a fresh coat of paint to ceilings and walls to cover and seal in smoke residue, reducing the odor.
4. Details Matter: Light Bulbs and Air Filters: Replace light bulbs and clean or change air filters, as they can trap and emit smoke odors.
5. Wash Windows and Window Coverings: Clean windows and wash window coverings like curtains and blinds to remove smoke residue and odors.
6. Refresh Cabinets and Upholstery: Clean and deodorize cabinets and upholstery to eliminate embedded smoke odors.
7. Cleanse Carpets and Rugs: Thoroughly clean and deodorize carpets and rugs, as they can trap smoke odors deep within their fibers.
8. Floors: Clean and deodorize all types of flooring, such as hardwood, tile, or linoleum, to ensure the complete removal of smoke odors from the premises.
How is water damage addressed after a fire due to firefighting efforts?
A professional restoration company like NuEra Restoration and Remodeling can provide comprehensive restoration services involving both water damage restoration and fire damage restoration. Water damage due to firefighting efforts should be eligible to be covered by your insurance provider when you file a claim.
What is the process for assessing and repairing fire-damaged roofs and ceilings?
The process includes evaluating the extent of the damage, eliminating water, soot, and debris, and restoring the residence to its "pre-loss condition" through construction services. Typical tasks include securing the property, eliminating smoke odors, addressing any hazardous materials (such as asbestos or mold), and reconstructing the home.
Why and How People Choose a Professional Contractor After a Home Disaster?

---
Recent Reviews
Review by Kiara Robinson
Rating

"Professionalism, Punctuality, Quality, Responsiveness, Value Clint and his team were AWESOME!!! He was very considerate of my time and space. I was very frustrated when he arrived & when he left I felt happy and relieved that my issue was resolved! He made sure to clean everything with non-toxic chemicals so that my kids would be safe, he explained everything he was doing and executed it perfectly. I had a leak in my ceiling and sewage water everywhere. He put in the time and hard work to disinfect, clean, and dry everything throughly. He was quick, efficient, and respectful! I would definitely recommend his services to anyone who has an issue in their space. Thank you Clint."
---
Review by Sara Ofenloch
Rating

"Our technician Alec came in and re-padded the carpet that had been torn up last week due to water damage. He was so friendly and talkative, and worked very quickly to get the job done! In and out within 30 minutes so that I could get on with my day. Would definitely recommend. Thanks Alec!"
---
Review by Saima I
Rating

"After our apartment flooded on Chirstmas Eve, we were worried about dry wall repairs and patches, and disgusted by the stench. NuEra handled our dry wall replacement and patching and our carpets. We didn't get a business card from the man who worked on our walls and ceilings, but he did so without his partner that day. We are so grateful! After the drywall repairs, our carpets were cleaned so thoroughly and efficiently. Alex treated the carpet and scrubbed it out well before applying the deodorizer and scrubbing that in. He even got out a bright yellow stain from the water that had leaked in. It's such a relief to no longer live in a stinky apartment! Alex and Nick were wonderful! Thank you so much!"
---
See All Reviews