Hoarding is a disorder that can have dangerous consequences for those affected as the symptoms will gradually become worse and lead to unsafe living conditions.  As the individual begins collecting items, he or she will become incapable of disposing of anything and the hoard of items will continue to grow, blocking access to parts of the home and harboring mold and other bacteria.  NuEra Restoration and Remodeling provides hoarding cleaning services to help individuals who struggle with hoarding in Streamwood, IL clean out their homes and restore sanitary living conditions.  These services include the removal of hoarded items as well as decontamination of the homes the symptoms of hoarding progress, the individual may collect paper products, food containers, newspapers, trash, and in some extreme cases even animals.  A large hoard of collected items is dangerous not only because it blocks off areas of the home, but also because it can allow mold, mildew, and other harmful bacteria to grow which can have negative health effects.  Individuals that struggle with hoarding rarely reach out for help themselves and it is usually a family member or close friend that initiates the process.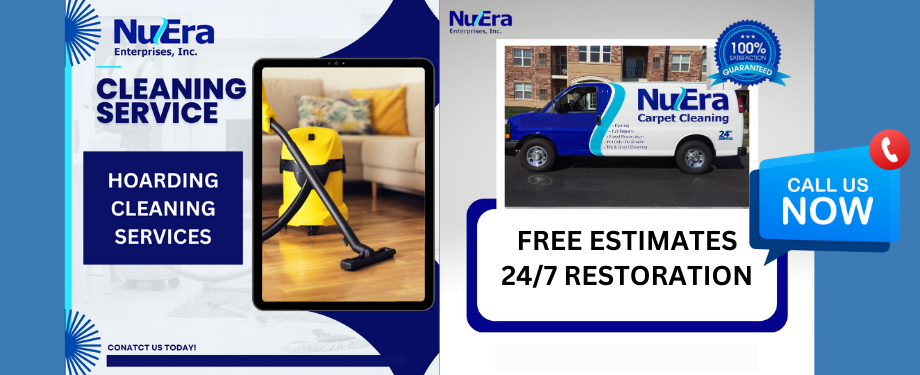 NuEra Restoration and Remodeling Hoarding Cleanup Projects
The technicians of NuEra Restoration and Remodeling are experienced with hoarding cleaning projects and understand the importance of approaching each situation with compassion and respect for the individual.  We use the best equipment available in the industry to remove hoarded items and clean and decontaminate the home once they have been removed.  As we clean out the hoard, we will help the individual and their family decide what should be kept and what should be thrown away.  If we encounter biohazard materials such as mold, bacteria, bodily fluids, or dead animals, we are equipped to dispose of these materials safely.
Watch RestorationMaster video for more information on disinfection services
NuEra Restoration and Remodeling Hoarding Cleanup Process
Each member of our staff has the licensing and certification necessary to work on hoarding cleaning projects and our cleaning methods comply with the rules and regulations of OSHA, the EPA, and the Department of Transportation.  Our hoarding cleaning services include the following steps:
Decontamination: The entire infected area is decontaminated to kill mold and bacteria after the hoard is removed.
Deodorization: Any lingering odors are removed with powerful deodorizers.
Disposal: We can dispose of unwanted items properly including biohazard materials.
Contact Us for Hoarding Cleaning Services in Streamwood, IL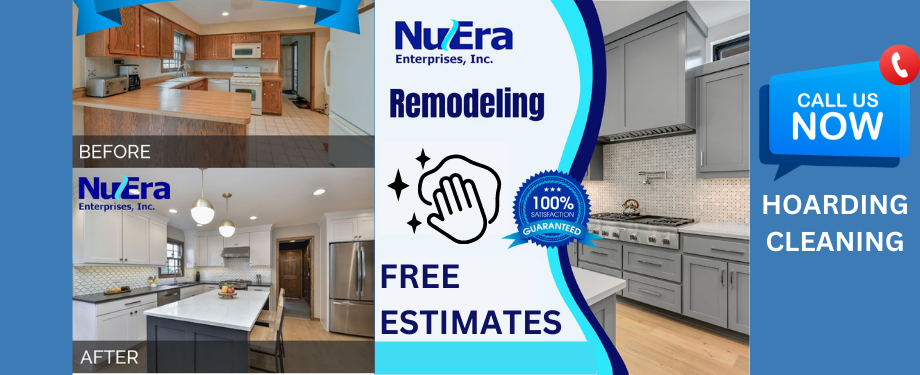 The effects of hoarding can threaten the safety of individuals that struggle with this issue so it is important to get help for those that hoard as soon as possible.  NuEra Restoration and Remodeling provides hoarding cleaning services in Streamwood, IL to help clean out hoarders' homes and create a much safer environment to live in.  You can call us anytime 24 hours a day at (630) 656-9915 to talk to our professionals about hoarder cleaning services.
---
Related Hoarding Cleanup Services:
Hoarding Cleanup Technicians in Elk Grove Village, IL
Hoarder Clean Up Certified Professionals in Downers Grove, IL
Hoarder Cleaning Team in Mt. Prospect, IL
Hoarder Cleanup Experts in Des Plaines, IL
Hoarder Cleaning Company in Schaumburg, IL
---
Recent Reviews
Review by Kiara Robinson
Rating

"Professionalism, Punctuality, Quality, Responsiveness, Value Clint and his team were AWESOME!!! He was very considerate of my time and space. I was very frustrated when he arrived & when he left I felt happy and relieved that my issue was resolved! He made sure to clean everything with non-toxic chemicals so that my kids would be safe, he explained everything he was doing and executed it perfectly. I had a leak in my ceiling and sewage water everywhere. He put in the time and hard work to disinfect, clean, and dry everything throughly. He was quick, efficient, and respectful! I would definitely recommend his services to anyone who has an issue in their space. Thank you Clint."
---
Review by Sara Ofenloch
Rating

"Our technician Alec came in and re-padded the carpet that had been torn up last week due to water damage. He was so friendly and talkative, and worked very quickly to get the job done! In and out within 30 minutes so that I could get on with my day. Would definitely recommend. Thanks Alec!"
---
Review by Saima I
Rating

"After our apartment flooded on Chirstmas Eve, we were worried about dry wall repairs and patches, and disgusted by the stench. NuEra handled our dry wall replacement and patching and our carpets. We didn't get a business card from the man who worked on our walls and ceilings, but he did so without his partner that day. We are so grateful! After the drywall repairs, our carpets were cleaned so thoroughly and efficiently. Alex treated the carpet and scrubbed it out well before applying the deodorizer and scrubbing that in. He even got out a bright yellow stain from the water that had leaked in. It's such a relief to no longer live in a stinky apartment! Alex and Nick were wonderful! Thank you so much!"
---
See All Reviews