No words can describe the feeling of encountering a biohazardous scene, especially if it is that of a loved one. In addition, the blood and bodily fluids contain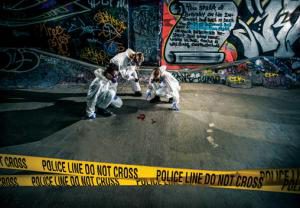 harmful bacteria and pathogens that threaten personal health. This is why an emergency cleaning service must be called immediately.
RestorationMaster is available 24/7 in the St. Louis, MO area to provide emergency biohazard and trauma scene cleanup services. Each of our technicians is licensed and experienced, using commercial products to remove both bacteria and stains from the affected materials.
Dangerous Biohazards and Pathogens
While the property damage from biohazards may not be caused by a natural disaster, it can certainly spread like one. Just like water and smoke, the bacteria from the bodily fluids can spread to contaminate additional surfaces if not treated right away. For you and everyone's personal health and safety, don't hesitate to reach out to a professional cleaning service.
When calling RestorationMaster, you can expect us to arrive within 2 hours of your first call. We will work with law enforcement, if present, as to not disturb any evidence. We will then begin working to contain the area and prevent the pathogens from spreading. The scene will be disinfected, removing all biohazards, bacteria, stains, and odors to restore safe and healthy conditions.
All of the following is included within our trauma scene cleanup services:
Removal of biohazards: All dangerous blood, tissue, and other bodily fluids will be carefully removed from the affected area.
Disinfection: The scene will be thoroughly disinfected with powerful but safe chemicals, killing all bacteria and pathogens to restore safe living conditions.
Deodorization: After the scene has been restored, the area will be effectively deodorized to remove all traces of the biohazards.
Proper Disposal: All biohazards will be transported in approved containers to a medical waste facility for proper disposal.
Working with Insurance: If you had chosen to file an insurance claim, we will work with your company during the claims process to allow additional peace of mind.
Family Support and Assistance: Our technicians understand how stressful this situation can be, which is why we work with compassion and understanding. We can also provide references to local family counselors, if needed.
Experienced and Licensed: In addition to ongoing training, each of our technicians is licensed and experienced to use commercial products to restore all damaged and stained materials to their original conditions.
Our trauma scene cleaning services cover all of the following situations:
Violent crimes and homicides
Suicides
Car accidents
Major accidents and injuries
Unattended deaths
As soon as you encounter a trauma or crime scene, stay as far away from it as you can for your own health and safety. Don't hesitate to call law enforcement to start the investigation, followed by an emergency cleanup service to properly restore the affected area.
RestorationMaster is available 24/7 at (636)492-3030 in the St. Louis, MO area to provide 24/7 emergency biohazard and trauma scene cleanup services.
Related Crime and Trauma Scene Cleaning Services
Biohazard Cleanup in St. Charles, MO
Trauma Scene Cleaning in O'Fallon, MO