The tropical storms, rain, and humidity that are common to the St. Augustine, FL area make water damage almost inevitable for homeowners and business owners. However, these are not the only source of water damage as plumbing leaks and burst pipes can also result in excess water in the home. Water and moisture can easily penetrate porous surfaces and materials including furniture, flooring, drywall, and wood. This increases the risk of structural damage by weakening the materials and also creates favorable conditions for mold that can affect your property and your health. RestorationMaster provides water damage restoration services in St. Augustine, FL to help remove all water or moisture and restore the affected areas. We use advanced water extraction and drying equipment to ensure that all excess moisture is completely removed.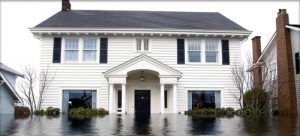 Homes and buildings are full of absorbent building materials that allow excess water to cause widespread damage. Water can easily penetrate woodwork, carpeting, walls, flooring, and insulation which causes discoloration, warping, and more severe structural damage. If mold appears as a result of the moisture, it will add to the structural damage and put you and your family at risk for allergic reactions or infections. We use advanced drying and extraction equipment to help contain and remove the water before it leads to severe damage or mold growth. You can expect the following steps from our water damage restoration services:
Complete evaluation of the damage
Water extraction
Anti-microbial application
Drying: air movement
Drying: dehumidifying
Drying: monitoring
Flood Damage Restoration
St. Augustine, FL experiences wet conditions from rain and storms like hurricanes that can lead to flooding in homes and buildings. Indoor flooding is a serious issue because it can penetrate porous building materials like wood, drywall, and flooring where it can cause discoloration, warping, or more serious issues that can threaten the structural integrity of your home. Not only does flooding have the potential to cause significant damage, but it can also cause negative health effects. Flood water is likely to contain sewage or other microorganisms that can cause health issues and it can also lead to mold growth.
Flooding is not just caused by severe weather and rain, an overflow, leak, or sewage backup can also result in standing water in your home. Regardless of the cause, contact RestorationMaster immediately for flood damage restoration in St. Augustine, FL. Our technicians will remove the standing water and dry the entire area to prevent further damage or mold growth. The affected areas will also be cleaned and disinfected to reduce the risk health effects from mold or microorganisms.
Water Damage Restoration Procedure
Our technicians are dedicated to making sure all water and moisture is removed from your home or building and we can also clean and restore the affected areas. We will complete the following tasks during the water damage restoration process:
Initial inspection of the area to evaluate the damage and safety of the building
Repair of the source of the water damage if possible
Complete water extraction with our advanced equipment
Containment of the water to prevent it from spreading to unaffected areas
Thorough drying of all furnishings and structural materials with our drying equipment
Restoration and repair of damaged surfaces and materials
Water damage can go from a small problem to a major issue because of its ability to spread through building materials. You must call RestorationMaster as soon as you find water damage in your home or building in St. Augustine, FL. We are standing by 24 hours a day at (904) 559-3223 to provide emergency water damage restoration.