St. Augustine, FL is a beautiful area but the residents know that it is vulnerable to major storms that can quickly turn ugly. Rain, wind, and hail has the potential to cause property damage but those in the area should also be aware of hurricanes and tropical storms that bring a lot of rain and strong winds. Property damage from a major storm can be devastating as rain can cause water damage and heavy winds can tear apart the exterior of a building and cause structural damage. RestorationMaster provides storm damage restoration in St. Augustine, FL to restore and repair homes and businesses affected by adverse weather conditions. We will make sure the building is stabilized immediately to prevent further damage and form a restoration plan to get your home or building rebuilt to its original condition.
Hurricanes and Tropical Storms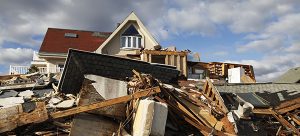 By far the biggest threat to the St. Augustine area in regards to the weather is hurricanes and tropical storms. Hurricanes and tropical storms share many similarities; they each involve heavy rain and strong winds and they form over the ocean as a system of thunderstorms. The only difference between the two is the strength of the wind and the severity of the rain. Both storms, however, can cause serious damage as the rain is heavy enough to result in flooding and the high winds can destroy the windows, siding, and roofing of homes and buildings as well as blow over trees, utility poles, and other large objects that can cause considerable damage. It is important to be aware of the development of hurricanes or tropical storms and take action to protect yourself and your property.
Storm Damage Cleanup
Most of the damage caused by a storm is either water damage from the rain or physical damage caused by strong winds or blown over objects. If the damage to your home or building following a storm is severe, contact our experts for immediate stabilization and storm damage restoration. We will stabilize your home or building to avoid more serious structural damage and provide full restoration by repairing the physical damage and taking care of any water damage. The storm damage restoration services that we provide consist of the following:
Roof tarping and board-ups to secure the building
Repair of water damage as well as structural and exterior damage
Clearing of natural debris including tree branches and bushes from the property
Clearing of non-natural debris such as glass, siding, and shingles
The damage to a home or building from a storm can get worse if the building is not stabilized so contact RestorationMaster as soon as you can after sustaining storm damage. Our technicians will repair the damage to your home or building and clean up your property to return it to its pre-storm condition. We are available 24 hours a day at (904) 559-3223 to provide emergency storm damage restoration in St. Augustine, FL.