Mold is one of the most unwelcome sights in a home and if you discover mold growth, it is important to take action immediately to have it removed.  Rainbow International provides mold remediation services to residents of Brownsville, Port Isabel, and South Padre Island, TX to remove the mold and repair any resulting damage.  Our technicians are well trained to properly remove mold but we only provide mold remediation services for areas no bigger than 10 feet by 10 feet.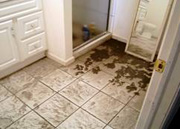 Mold growth is typically a symptom of water damage as it only takes the right temperature and moisture level to cause it to grow.  Our mold remediation services begin with testing to determine the extent of the water damage and how long the property has been exposed.  Once these tests are complete, we remove the mold using the best cleaning products and methods in the industry and we contain the mold so that it does not spread to unaffected areas as we work.  Our specific mold remediation services include:
Identification and repair of the moisture source
Thorough cleaning or replacement of the affected surfaces
Protection of workers, clients, and their property
Containing the mold to the affected area
Mold not only causes destruction of property, but is can also cause a variety of health problems from prolonged exposure.  Make sure to contact Rainbow International immediately to remove mold from small areas in Brownsville, Port Isabel, or South Padre Island, TX.  We can take your call anytime at (956)622-7349.
---
Recent Reviews
Review by

Danny Millan
Rating

"Amazing costumer service, technicians are on stand by 24/7 making them ready to go out and service our home. Rainbow is the best choice our family made. 100% satisfied."
---
Review by

Loyce Rogers
Rating

"I am very satisfied with the work and with all the workers....very pleasant to work with."
---
Review by

Sandra Garcia
Rating

"The best in McAllen."