Hoarding is an issue that affects many people in the United States and it is generally a loved one or family member that helps a hoarder clean out their homes before their living situation becomes unsafe.  The extreme collection of anything from trash and personal items to animals is what defines hoarding and if the collection of objects becomes too large, it could jeopardize the safety and health of those within the home.  Rainbow International offers hoarder cleanup services to Brownsville, Port Isabel, and South Padre Island, TX to help the friends and family members of hoarders restore their homes to a safe, livable condition.
Hoarder Cleaning for Brownsville and South Padre Island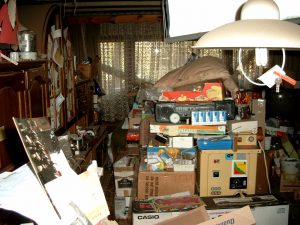 Our staff has experience with hoarder cleaning projects and understands the sensitivity of the situation which calls for a caring and compassionate approach.  We have received specialized certification and training to provide effective hoarder cleaning services which include removal of the hoarded objects as well as thorough cleaning, sanitization, and deodorization of the area.  Sometimes collected hoards can contain dust, mold, bodily fluids, decomposed animals, or other biohazard materials which we can safely remove.
Each technician that works on hoarder cleaning projects from Rainbow International is properly licensed, certified, bonded, and insured and we comply with the rules and regulations of OSHA, the Department of Transportation, and the EPA.  Our specific hoarding services include:
Decontamination: We remove all items and biohazard materials such as bodily fluids and decomposed animals and then decontaminate the entire area.
Deodorization: Removal of all odors with powerful deodorizers.
Proper Disposal: We safely transport all biohazard materials to a facility for disposal and save precious personal items and keepsakes.
If you have approached a friend or family member that struggles with hoarding issues about cleaning their home, contact Rainbow International for hoarder cleaning services in Brownsville, Port Isabel, and South Padre Island, TX.  Our staff approaches each hoarder cleaning project with a sense of compassion and we will help restore the home to a safe condition.  Contact us anytime at (956)622-7349 to learn more about our hoarder cleaning services.
---
Recent Reviews
Review by

Danny Millan
Rating

"Amazing costumer service, technicians are on stand by 24/7 making them ready to go out and service our home. Rainbow is the best choice our family made. 100% satisfied."
---
Review by

Loyce Rogers
Rating

"I am very satisfied with the work and with all the workers....very pleasant to work with."
---
Review by

Sandra Garcia
Rating

"The best in McAllen."