Fires are among the most devastating disasters that can happen to a home and it is important to begin restoration services as soon as the fire is put out to stop the spread of the damage.  Rainbow International provides fire and smoke damage restoration services for homes and businesses in Port Isabel, Brownsville, and South Padre Island, TX that have been significantly damaged in a fire.  We provide a fast response to all fire damage emergencies and we also specialize in smoke damage restoration and odor removal.
Fire Damage Restoration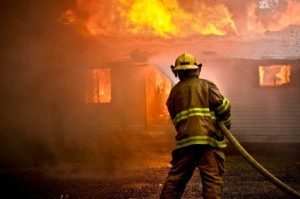 The technicians of Rainbow International have been properly trained and certified to restore smoke and fire damage and we also provide off-site content cleaning to restore your personal belongings.  The methods and equipment we use are among the most effective in the industry and we also specialize in smoke odor removal to remove the smell from your home and furnishings.  It is important to call us immediately after the flames are extinguished because corrosive byproducts from the fire can cause permanent damage.  Our fire damage restoration process includes the following steps:
Emergency pre-cleaning
Wall and ceiling cleaning
Smoke Damage Restoration
As part of our fire damage restoration services, we also provide smoke damage restoration to remove soot damage left from the smoke.  Our technicians have an expert knowledge of effective chemical combinations that can be used to remove soot and smoke damage from a variety of delicate surfaces including marble, porcelain, aluminum, brass, tile, and stainless steel as well as furniture, upholstery, and carpet.
If a fire has caused significant damage to your home or business in Brownsville or South Padre Island, TX, do not hesitate to contact Rainbow International for fire and smoke damage restoration.  Our technicians can also provide deodorization and content cleaning along with our fire damage restoration services to help restore your personal belongings as well as your home.  We can be reached 24 hours a day at (956)-622-7349 for emergency fire and smoke damage restoration services.
---
Recent Reviews
Review by

Danny Millan
Rating

"Amazing costumer service, technicians are on stand by 24/7 making them ready to go out and service our home. Rainbow is the best choice our family made. 100% satisfied."
---
Review by

Loyce Rogers
Rating

"I am very satisfied with the work and with all the workers....very pleasant to work with."
---
Review by

Sandra Garcia
Rating

"The best in McAllen."