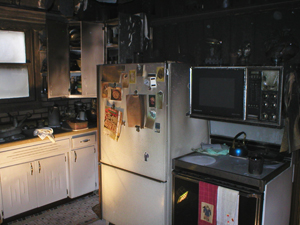 Contact a fire damage restoration professional as soon as possible to minimize your losses after the fire is extinguished. Professional fire & smoke restoration services and professional cleaning can salvage much of your property and your belongings.
The experienced staff ServiceMaster Professional Services come highly recommended and are experienced in all phases of fire damage, water damage, wind damage, smoke damage and mold restoration in St Cloud, MN 56301 area.
We have over 40 years of experience restoring residential and commercial buildings and are the preferred vendor for many insurance companies. We are experts at problem solving-not only in meeting our client's needs (including quick response-cost savings) but responding when unforeseen challenges arise.
Our fire restoration professionals are also fully trained and certified in treating and removing the effects of smoke and heat residue from walls, windows, furniture and upholstery. Fire damage restoration may include cleaning of contents, replacement/removal of drywall, insulation, removal of flooring and evaluation of structure (above ground and underground).
ServiceMaster Professional Services uses the latest equipment and supply in our fire and smoke restoration process:
Emergency pre-cleaning
Content cleaning
Content pack-out (when necessary)
Dry Cleaning, Clothing and Textile Restoration
Wall, ceiling, and HVAC cleaning
Deodorization

For fire & smoke damage restoration services in Saint Cloud, MN 56301 area, contact ServiceMaster Professional Services immediately at (888) 583-5345.