There are a number of incidents, both large and small, that can lead to foul, lingering odors on your property. Whether the smells are from mold, pets, water damage, smoke, garbage, or anything of the sort, we can locate the sources, and eliminate them, here at RestorationMaster. Our technicians are specifically trained to do this through our odor removal services and can put in place preventative measures so that this does not occur again. We offer these services to homeowners and business owners in the San Juan, TX, area.
Causes of Odors
In many cases, there is a lot of crossover between how troubling aromas remain within homes and office spaces. This is because of the very nature of lingering odors. Porous building materials, personal items, furnishings, and more are typically the culprits. These surfaces are notorious for absorbing foul smells, and then holding on to them for significant periods of time. There are other cases where an actual substance is on your property causing the odor. Regardless of your unique situation, we will locate the source, and eliminate the smell.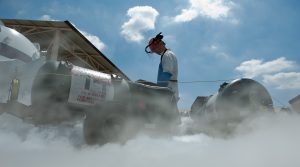 While there is really no limit to what can cause an odor to linger on your property, there are a number of events that we respond to most frequently. Some of the more common causes include:
Spoiled foods
The growth of mold and mildew
Cigarette smoke
Pets
Spilled milk and cooking incidents
Plumbing leaks
Vomit
Various accidents
How We Can Help
At RestorationMaster, we provide industry-leading odor removal services to eliminate any lingering odors on your property. We do this through our refined processes based on our over 30 years of experience as a disaster restoration and cleaning services provider. Additionally, all of our technicians are highly trained, IICRC certified, and dedicated to providing optimal results. No matter the extent of the damage, we can address it fully. You do not need to live with the foul odor on your property.
Some smells are admittedly "tricky" to locate and remove; however, this is specifically what we train for. We fully understand the science of identifying the causes and sources of overpowering, persistent, widespread, and mysterious odors. Once this information has been determined, we will work to contain, remove, and ultimately eliminate the odor from your property.
In addition to providing optimal results, we are also committed to giving you the greatest customer service possible. We understand that scenarios such as these are not exactly enjoyable. For this reason, and because it's the right thing to do, we always work with respect and understanding of your situation.
To take advantage of some of the most advanced odor removal equipment and processes in the industry, simply contact our representatives about our odor removal services. We can be reached at (956) 622-7349. At RestorationMaster, we are proud to work with homeowners and business owners in the San Juan, TX, area.