One of the best ways to quickly improve the appearance of a home or office is with a new paint job. Paint that is worn out or an outdated color can diminish the appearance of a space and affect the impression visitors or customers may get. If you are ready to have your home or office repainted, you can have the job done quickly and efficiently by calling professionals.
RestorationMaster of Orange County Florida provides residential and commercial painting services for homes and businesses in Ocoee, FL. We use quality materials and work diligently to provide a neat, well-done paint job. Our low overhead costs mean that we can offer our painting services at an excellent price.
Professional Residential and Commercial Painting in Ocoee, FL
At RestorationMaster of Orange County Florida, our professionals can provide interior and exterior painting for all types of homes and businesses in Ocoee, FL. We ensure a neat appearance as we strive for perfection with our work. Customers are always happy with the quality of our paint jobs and how they help improve the appearance of their home or office.
Once you have decided to have a specific space repainted, you should plan out what you want to be done and look for colors. Once you have a clear vision of your project and have chosen your colors, talk to our professionals to work on the project. We will get the painting done as efficiently and hassle-free as possible.
We provide the following painting services:
Interior residential: Our professionals can paint bedrooms, bathrooms, kitchens, hallways, and other areas inside your home.
Interior commercial: We can paint indoor areas of commercial buildings including offices and lobbies.
Exterior residential: We can boost the curb appeal of your home with a new paint job.
Exterior commercial: Our professionals can improve the outside of any commercial building with a new paint job.
Call the Painting Professionals in Ocoee, FL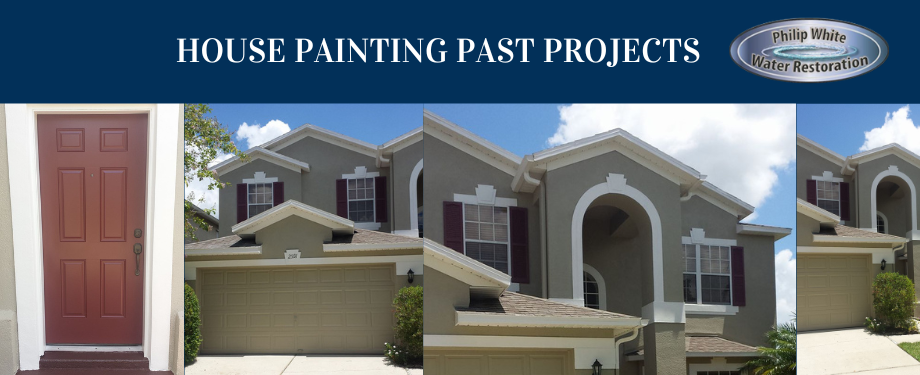 Sometimes a new paint job is all you need to improve the appearance of your home or office. Make sure you call our professionals at RestorationMaster of Orange County Florida when you need residential or commercial painting services. You can expect quality work at a great price.
You can reach RestorationMaster of Orange County Florida at (407) 326-2875 for professional painting services in Ocoee, FL.
---
---
Recent Reviews
---
Review by Greg Hogancamp
Cleaning
Rating

"Phil came out at night after a water pipe burst behind my wall. Set everything up quickly. Explained the whole process. Made sure the job was done correctly and then came back to check on everything. Really great experience considering how bad the night started out. Would recommend to anyone who has a similar issue."
---
Review by Darro Willey
Cleaning
Rating

"Used Philip White Painting and Restoration for some interior painting and exterior pressure washing. Arrived schedule and did a thorough job at a fair price. Would use again."
---
Review by Bill Dalton
Cleaning
Rating

"I couldn't be more grateful for how quick and efficient they were at saving my hardwood floors"
---
Review by Kenneth Ridge
Cleaning
Rating

"Heading into my weekend my place had a pretty significant leak about 2 weeks after a major plumbing project. Most of my unit is carpeted, so MAJOR stress!!! Philip White came over pretty quickly with his equipment, did some initial checks and set up. He helped me find where all the water came from (which was a pretty tucked away location. I literally felt like I was standing on my head to see it). He was patient with all my questions, and helped to turn a horrible situation into something more tolerable."
---
See All Reviews