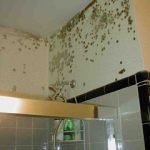 Mold may appear as a result of recent water damage or simply because of the high levels of humidity in your area. Whatever the reason, have in mind that mold spores are easily spread by the air current and can quickly affect structural materials and personal items alike. In addition to the property damage, mold can also pose significant health risks to people and pets, triggering allergy symptoms and causing respiratory problems, dizziness, headaches, etc. You need to take efficient measures to remove the mold as soon as possible and to prevent it from reappearing in the future. Using professional mold remediation services will yield the best possible results, as the specialists will be able to find all the hidden mold in your property, contain it to the already affected areas, safely get rid of it, and thoroughly clean and disinfect your household items and materials. What's more, they will also remove the distinctive musty smell from your furnishing and clothes and will give you practical advice on how to prevent mold growth in the future.
RestorationMaster provides quality mold remediation service to homes and businesses in South Lake Tahoe, CA to completely remove mold and restore the affected areas, ensuring a healthy and pleasant living environment. Our extensive experience and advanced equipment guarantee a quick and efficient mold remediation process that will allow you to get rid of mold and musty smells for good.
Mold Removal Process
The first thing to do if you want to get rid of mold in your property is to look for any sources of excessive moisture and fix them at the earliest opportunity. Then, you need to kill the mold spores with the help of quality mold removal products and to thoroughly clean all the structural materials, household items, and personal possessions that have been affected by the harmful microorganisms. Proper ventilation and dehumidification will help you keep mold away from your home.
However, if structural damage has already occurred and the living conditions in the building are no longer safe and healthy, you are strongly advised to call the professionals for effective mold remediation. The technicians of RestorationMaster have been trained and certified to provide efficient mold remediation services in commercial and residential settings. We localize mold growth and use specialized cleaning products and cutting edge equipment to completely remove mold even from areas that are extremely difficult to access, such as inside ventilation ducts, above ceiling tiles, under floorboards, etc. You can rest assured though, that your more delicate household materials will sustain no damage in the process, as we take into consideration the specifics of your particular case and use only products and techniques that are safe for your items. Besides, we make a mold damage assessment and discuss it with your insurance company to make sure that your expenses will be properly reimbursed.
Once all the mold from your home has been removed, our experts will take appropriate measures to get rid of any remaining musty smells as well. Nano filters, air scrubbers, hydroxyl technology, and other appropriate state-of-the-art deodorization equipment will be used to remove mold odors from your furniture, carpets, upholstery, clothes, etc. and to ensure the healthy and pleasant living conditions in your home. What's more, you will be given useful advice on how to keep your property mold-free in the future.
Contact RestorationMaster as soon as you detect musty smells or notice mold growth in your home or office in South Lake Tahoe, CA. Call us anytime at 888-915-8868 for more information and a free estimate of our quality mold remediation services.